Why choose Texas State?
We know that there are many school psychology training programs, so what makes Texas State University's program special?
Ask any of our current or past students and they will tell you we are

student-centered

and

we are invested in your students' success

(we care about you, we are approachable, and we build a personal mentoring relationship with you).

We have an

on-campus clinic for training our students

in assessment for autism, learning disabilities, and other conditions.

We offer more hands-on training then the majority of programs - you have

three, semester-long practicum experiences and a two, semester-long internship experiences

.

We offer our you

student-faculty research collaboration opportunities

, and we promote your a

ttendance and presentations at conferences

All of our faculty

have experience working as school psychologists

in K-12 school settings.

Our program is one of the olde

st. This means

we know what we are doing!

As we say in Texas, "

This is not our first time to the rodeo!

"

Our program is the largest in the state. This speaks to the

quality of our program and our program's amazing reputation

! Don't be fooled however, just because we are the largest, it doesn't mean we don't care. Just like the TXSTATE campus is the "largest small-feeling campus in Texas, "

We are the largest, small-feeling school psychology program in Texas!

"

Our graduates are employed in

school districts throughout the

state, across the country, and throughout the world.

Our program is

approved by the National Association of School Psychologists

, which simplifies the process of credentialing for graduates of the program.

Our current and former students

routinely serve as representatives and advocates at the state and national level

.
The School Psychology Program at Texas State University prepares students to become skilled clinicians and problem solvers, serving children, schools, and families. Coursework in the areas of school-based psychoeducational assessment, counseling, and consultation build competencies for professional practice as a Licensed Specialist in School Psychology. The Program offers related training in the areas of brain behavior relationships, the educational needs of culturally and linguistically diverse learners, and the assessment of social, behavioral, and emotional functioning. Our 69-hour Specialist in School Psychology (SSP) program has been conditionally approved by the National Association of School Psychologists from August 1, 2022 through August 1, 2027. Graduates are eligible to apply for licensure from the Texas State Board of Examiners of Psychologists and certification as a Nationally Certified School Psychologist from the National School Psychology Certification Board.
A sample degree plan showing a typical sequence of courses can be found here.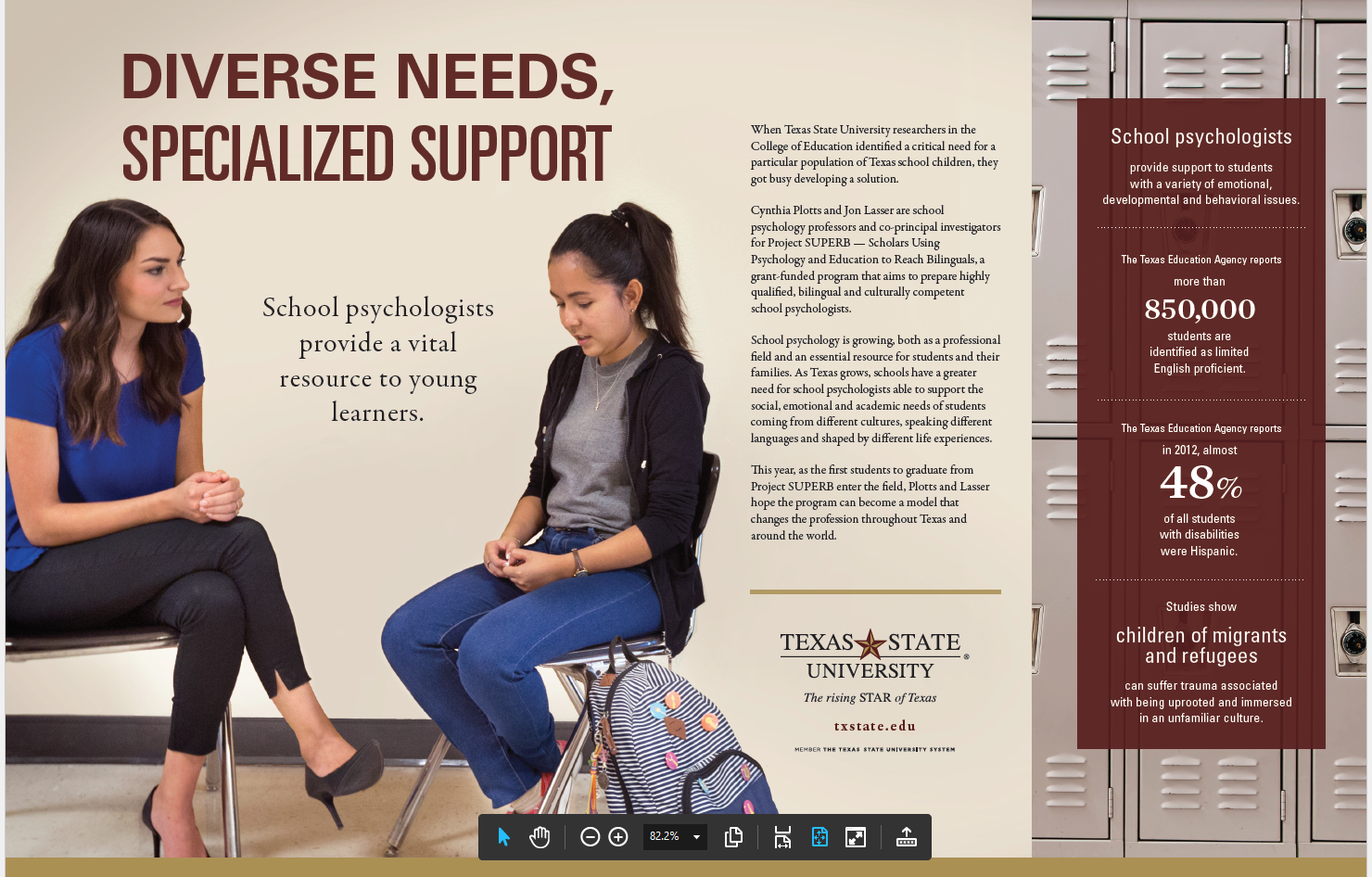 Interested in becoming a school psychologist? We encourage you to visit the NASP website.
Other related professional organizations:
Be a Bobcat profile of Elizabeth Yee, one of our former students:
---
Over the past 15 years, Leander ISD has been privileged to work with numerous practicum students, interns and graduates of the Texas State University School Psychology program. All of these individuals have been well prepared for their roles as LSSPs in the public-school setting. They have demonstrated excellent skills in the areas of assessment, consultation, counseling and crisis intervention. Our special education department has been particularly impressed with the hands-on knowledge that Texas State graduates gain through their experiences in the CARES clinic.
Being a Texas State School Psychology program graduate myself, I know first-hand that their professors are easily accessible and always willing to answer questions and continue to maintain collaborative relationships with their past students, no matter how long ago they graduated.
Ulli Crane, Lead LSSP for Leander ISD
Program Testimonials
I moved from North Carolina, and entered the Texas State School Psychology Program. I have found the program to be comprehensive, and the concepts are repeated across varying contexts in different classes. The professors are supportive, genuinely interested in student learning, and want to ensure well-qualified graduates. Also, the curriculum standards are high, yet the professors offer some flexibility to meet course load requirements. The professors have first-hand knowledge of working in school settings, and are also directly involved with organizations such as NASP. In addition to these aspects, I have met like-minded students in my cohort. Although we have been together just one semester, we have established a camaraderie. This has been a great support, especially since I moved from out of state. The Texas State School Psychology Program is a great program, one that I am glad I chose. I feel I will be well-qualified in time to enter the school psychology career field.
Kristy Bassili, Former Texas State School Psychology Student