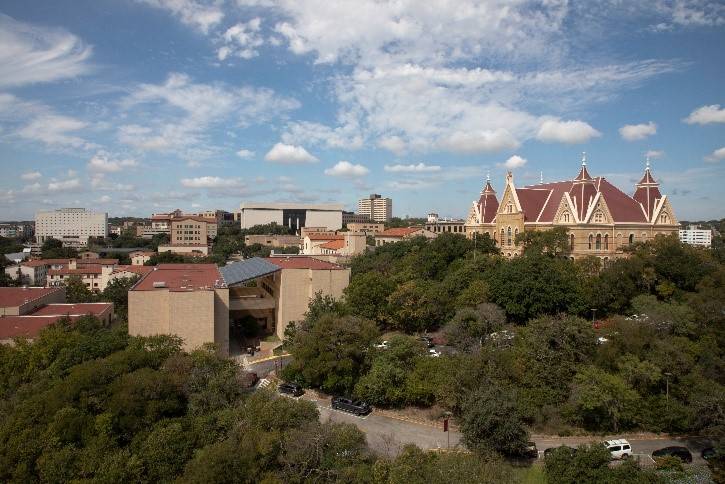 The Environmental Service Fee was conceived by Texas State's student chapter of the National Association of Environmental Professionals, sponsored by the Department of Geography. In 2000, then-NAEP President and Associated Student Government (ASG) senator, Maggie Patay, envisioned the ESF and later worked with a fellow ASG Senator, Todd Curry, to introduce legislation enacting a student fee that applies to environmental projects and education on campus.
The two student leaders originally drafted a broad bill that defined the idea of a campus environmental fee, which the ASG passed with the stipulation that revisions of the bill go into the final draft.
NAEP members gave expert testimony at the ASG meetings as to the importance of the fee and to the type of improvements that could come from it. Raising student fees is very difficult, and some senators needed convincing. In the end, ASG passed the measure, even introducing a separate bill that proposed a seven-member board that included both a geography department representative and NAEP member. One requirement of any student-related fee is that the students vote on it twice: once before presentation to the administration and once after it meets the administration's conditions. NAEP members on campus administered a poll in the fall of 2000. The first poll indicated tremendous support of students: 353 voted in favor of the fee, 66 voted against it.
The university attorney completed the final draft of the bill which then passed through the President's Cabinet, the Board of Regents, and, finally, the Texas Legislature. The ESF bill was sent to our sponsor in the Texas Senate, Ken Armbrister, and to our sponsor in the Texas House of Representatives, Rick Green. Although neither has introduced their bills, they expect to do so soon. Because the Legislature has made secondary education the main goal for this session, NAEP hopes to gain strong support and set precedence for universities across Texas.
The ESF Bill was approved by the State of Texas Legislature in 2003 during the 78th Legislative session with Senate Bill 1230 and was signed into law by Governor Rick Perry on June 21st, 2003, then subsequently presented again to the student body for approval in the Spring of 2003. In April 2003, the environmental service fee was approved by a vote of 1,213 to 334. However, inconsistency in wording between the ASG version of the referendum and the version approved by the Texas Legislature prevented the bill from being enacted, and thus, another vote was necessary.
NAEP worked diligently to push the revised ESF through the ASG legislation, during the Fall of 2003, and finally during ASG elections on March 30-31, 2004 the environmental fee won by an overwhelming 82.9 percent.
The first meeting of the Environmental Service Fee Committee, chaired by NAEP Student Representative Andy Ellis, was held on September 23, 2004.
Portions of this text are adapted from a departmental newsletter article by Dave Taylor, past-NAEP President, 2001.
By Noah Hopkins