Honors Summer Math Camp Information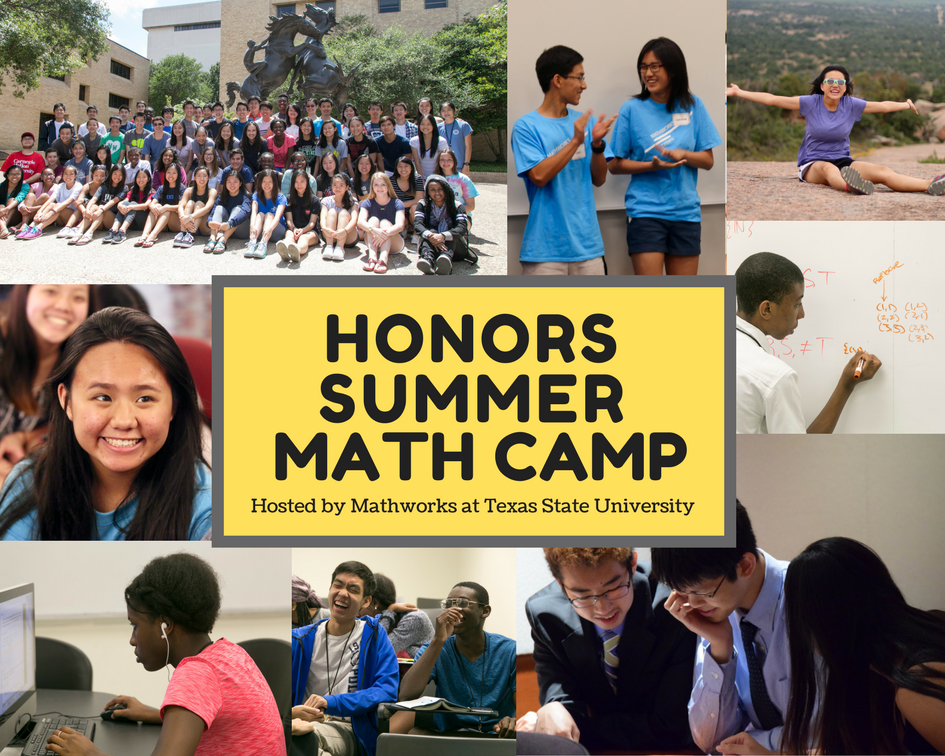 The Mathworks Honors Summer Math Camp (HSMC) is an intensive multi-summer program for high school students. The goal of the program is to develop talented students of all socioeconomic backgrounds through immersive and in-depth experiences in a unique learning environment. Students develop important skills for future degrees and careers in math, science, engineering, and many other fields.
The Honors Summer Math Camp is a full-time, in-person experience. We structure this program so that you will have time to bond with other campers, develop as a problem solver and researcher, and become an integral part of the Mathworks community. It is important not to take on any additional obligations that might interfere with your participation in camp activities. Therefore, we do not allow campers in HSMC to take online courses or participate in other programs, in person or online, during camp.
HSMC is a six-week, residential camp for high school students.
The camp is held from June 16 - July 27, 2024.
Eligibility & Admissions
We start taking applications on January 1st of each year and begin reviewing applications on February 1st.
Students are encouraged to apply as early as possible, as enrollment is limited.
Our average acceptance rate for first-year applicants has been 15%.
The typical ratio of boys to girls in the program is 1:1.
Participants come from all over the United States. We have also had a few international students from other countries, including Albania, Mexico, South Korea, Hungary, Bulgaria, Taiwan, Spain, China, and Indonesia.
For further questions regarding eligibility, contact us at mathworks@txstate.edu or (512) 245-3439.
To Apply
Complete the online student application form.
If you have not attended the HSMC before, you must apply for the first-year program. There are no exceptions!
Have your recommending teacher complete the Teacher Recommendation Form.
Send us a copy of your high school transcript.


We encourage students to send in all their application materials as early as possible.
| Round | Submit a complete application by | Decision by (Accept/Decline/Defer) |
| --- | --- | --- |
| Round 1 | February 15 | February 28 |
| Round 2 | March 15 | March 30 |
| Round 3 (Final Round) | April 16 | April 30 |
Expenses and Financial Aid
The full tuition fee for the six-week program from June 16 - July 27, 2024, $6,000.
Your student's spot in the summer math program is ensured only when you have paid in full.
Mathworks offers camp scholarships based on financial need. We make all efforts to ensure that students can attend regardless of financial background. Simply fill out the financial aid portion of the application.

The program provides room, board, books, supplies and a copy of the software Mathematica for each student to use during the school year.
Refund schedule: There is a non refundable $25 fee for application processing.
Full refund: if you withdraw your student before May 1st
Half refund: if you withdraw your student before or on May 15th
No refunds: if withdrawing after May 15th
External Funding Support
Below is an external funding opportunity for summer program participation support. This is not administered by Mathworks. Please contact the respective organization for more information.
AMS Epsilon Fund Scholarships
With support from the American Mathematical Society (AMS) Epsilon Fund, Mathworks is delighted to offer a Ky and Yu-Fen Fan Scholarship: a substantial or full scholarship for a talented high school student.
Mu Alpha Theta summer grants: students accepted into the HSMC who are members of their school's Mu Alpha Theta club are highly encouraged to apply to Mu Alpha Theta's summer grants. They offer up to $2,000 for members to attend summer math programs. More information can be found here.