Society of Plastics Engineers
Student Chapter at Texas State University
American Chemical Society
Student Chapter at Texas State University
Purpose: The purpose of this organization is to facilitate a social and professional environment for students and professors centered on the interest in chemistry. The organization will also focus on giving back to the community.
For more information, contact acsbobcats@txstate.edu
Student Chapter Website and Official ACS website
Faculty Advisor: Cynthia Luxford
American Society for Biochemistry and Molecular Biology (ASBMB)
Student Chapter at Texas State University
Purpose : Provide an environment that enables interested students to educate themselves on topics related to biochemistry and molecular biology including current events, research, and career opportunities, as well as foster community within the biochemistry department to help students succeed at Texas State University and in their future careers. Society activities include guest speakers (graduate students, Professors, Career Services), volunteering at elementary school science fairs, attending related conferences, socials, run fundraisers, host tutoring sessions, participate in Bobcat Build, etc.
Membership Requirements : Open to all students, regardless of major
Faculty Advisor: Karen Lewis
Society for the Advancement of Chicanos/Latinos and Native Americans in Science (SACNAS)
Mission: SACNAS is an inclusive organization dedicated to fostering the success of Chicanos/Hispanics and Native Americans, from college students to professionals, in attaining advanced degrees, careers, and positions of leadership in STEM.
Faculty Advisor: Dr. Tania Betancourt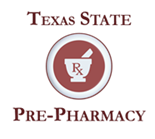 Pre-Pharmacy Society
Purpose: To provide students interested in attending pharmacy school an organization to affiliate with. Our primary goal will be to encourage hard work and good study habits among members. Joining the Pre-Pharamcy Society at Texas State will also help all members develop people, leadership, and time management skills. All of which will be vital for success in pharmacy school. We are here to help interested students grow into their next level of education.
Faculty Advisor: Dr. Wendi David