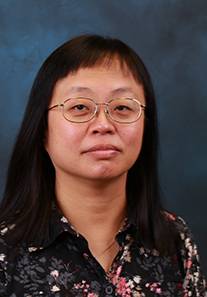 Office: Chem 210
Email: l_d141@txstate.edu
Phone: (512) 245-1038
Fax: (512) 245-2374
Educational Background

Bachelor of Medicine, Shanghai Medical University, Shanghai, China, 1992

Ph.D., Nutritional Sciences, University of Kentucky, Lexington, Kentucky, 2004

Postdoctoral Fellow, McDermott Center for Human Growth and Development, UT Southwestern Medical Center, Dallas, Texas, 2009

Areas of Interest

The role of micro RNAs in regulating neuroblastoma cell differentiation

Discovery of novel differentiation agents for treating neuroblastoma

Novel genes regulating neuroblastoma cell differentiation

Novel genes in lung tumorigenesis
Research in the Du Group
My primary research focus is on neuroblastoma, with a goal to identify novel drugs/drug targets for neuroblastoma differentiation therapy. Neuroblastoma is the most common solid tumor of infancy and the most common extracranial solid tumor of childhood. It accounts for more than 7% of childhood cancer incidence and 15% of cancer-related deaths in childhood. Neuroblastoma arises from the neural crest cell precursors of the sympathetic nervous system that fails to complete the process of differentiation, which provides the basis for differentiation therapy, a treatment approach to induce the differentiation of the malignant cells and thereby leading to tumor growth arrest (Figure). However, there are only a limited number of differentiation agents that have been successfully used to treatment neuroblastoma, and over 50% of the patients treated with current differentiation agents still develop recurrence. Such poor outcomes demand the development of more effective differentiation agents.
On the other hand, the mechanisms that control neuroblastoma cell differentiation is still poorly understood, which poses an obstacle to the development of new differentiation agents.
My current research directions are (Figure): (1) Identifying novel genes and molecular pathways that control neuroblastoma cell differentiation, in order to discover new drug targets for developing differentiation therapies. (2) Discovering new differentiation agents from various sources of anti-cancer drugs, including microRNAs, natural products and synthetic small molecule compounds.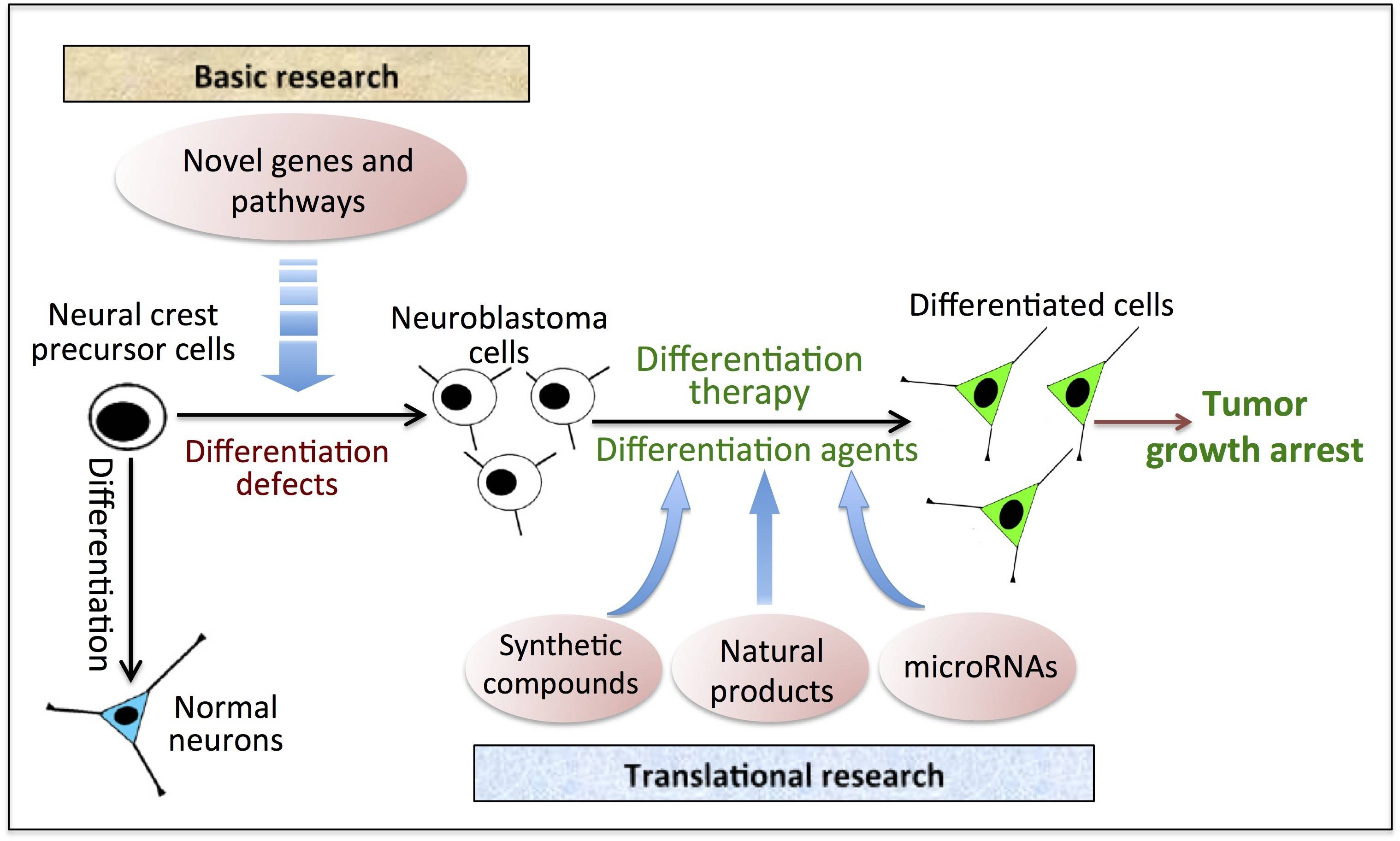 Recent Publications
Zhao Z, Shelton SD, Oviedo A, Baker AL, Bryant CP, Omidvarnia S, Du L. The PLAGL2/MYCN/miR-506-3p interplay regulates neuroblastoma cell fate and associates with neuroblastoma progression. J Exp Clin Cancer Res. 2020 Feb 22;39(1):41. doi: 10.1186/s13046-020-1531-2. PubMed PMID: 32087738; PubMed Central PMCID: PMC7036248.

Aksenov NA, Aksenov AV, Kirilov NK, Arutiunov NA, Aksenov DA, Maslivetc V, Zhao Z, Du L, Rubin M, Kornienko A. Nitroalkanes as electrophiles: synthesis of triazole-fused heterocycles with neuroblastoma differentiation activity. Org Biomol Chem. 2020 Sep 14;18(34):6651-6664. doi: 10.1039/d0ob01007c. Epub 2020 Aug 19. PubMed PMID: 32813002; PubMed Central PMCID: PMC7857362.

Eyong KO, Ketsemen HL, Zhao Z, Du L, Mathieu V, Kornienko A, Hull KG, Folefoc GN, Baskaran S, Romo D. Antiproliferative activity of naphthoquinones and indane carboxylic acids from lapachol against a panel of human cancer cell lines. Medicinal Chemistry Research. 2020 April; 29:1058.

Kosti A, Du L, Shivram H, Qiao M, Burns S, Garcia JG, Pertsemlidis A, Iyer VR, Kokovay E, Penalva LOF. ELF4 Is a Target of miR-124 and Promotes Neuroblastoma Proliferation and Undifferentiated State. Mol Cancer Res. 2020 Jan;18(1):68-78. doi: 10.1158/1541-7786.MCR-19-0187. Epub 2019 Oct 17. PubMed PMID: 31624087; PubMed Central PMCID: PMC6942226.

Aksenov AV, Aksenov DA, Arutiunov NA, Aksenov NA, Aleksandrova EV, Zhao Z, Du L, Kornienko A, Rubin M. Synthesis of Spiro[indole-3,5'-isoxazoles] with Anticancer Activity via a Formal [4 + 1]-Spirocyclization of Nitroalkenes to Indoles. J Org Chem. 2019 Jun 7;84(11):7123-7137. doi: 10.1021/acs.joc.9b00808. Epub 2019 May 22. PubMed PMID: 31070030.

Zhao Z, Partridge V, Sousares M, Shelton SD, Holland CL, Pertsemlidis A, Du L. microRNA-2110 functions as an onco-suppressor in neuroblastoma by directly targeting Tsukushi. PLoS One. 2018 Dec 14;13(12):e0208777. PubMed PMID: 30550571; PubMed Central PMCID: PMC6294380.

Du L, Zhao Z, Suraokar M, Shelton SS, Ma X, Hsiao TH, Minna JD, Wistuba I, Pertsemlidis A. LMO1 functions as an oncogene by regulating TTK expression and correlates with neuroendocrine differentiation of lung cancer. Oncotarget. 2018 Jul 3;9(51):29601-29618. PubMed PMID: 30038707; PubMed Central PMCID: PMC6049873.

Yu X, Zhang Y, Cavazos D, Ma X, Zhao Z, Du L, Pertsemlidis A. miR-195 targets cyclin D3 and survivin to modulate the tumorigenesis of non-small cell lung cancer. Cell Death Dis. 2018 Feb 7;9(2):193. PubMed PMID: 29416000; PubMed Central PMCID: PMC5833354.

Rastogi SK, Zhao Z, Barrett SL, Shelton SD, Zafferani M, Anderson HE, Blumenthal MO, Jones LR, Wang L, Li X, Streu CN, Du L, Brittain WJ. Photoresponsive azo-combretastatin A-4 analogues. Eur J Med Chem. 2018 Jan 1;143:1-7. PubMed PMID: 29172077.

Sousares M, Partridge V, Weigum S, Du L. MicroRNAs in neuroblastoma differentiation and differentiation therapy. Adv Mod Oncol Res. 2017 October 03; 3(5):213-222.

Partridge V, Sousares M, Zhao Z, Du L. Current Understanding on the Role of Cell Cycle Regulators in Neuroblastoma Cell Differentiation. Med One. 2017 June 25; 2:e170010.

Zhao Z, Ma X, Shelton SD, Sung DC, Li M, Hernandez D, Zhang M, Losiewicz MD, Chen Y, Pertsemlidis A, Yu X, Liu Y, Du L. A combined gene expression and functional study reveals the crosstalk between N-Myc and differentiation-inducing microRNAs in neuroblastoma cells. Oncotarget. 2016 Nov 29;7(48):79372-79387. PubMed PMID: 27764804; PubMed Central PMCID: PMC5346721.

Borkowski R, Du L, Zhao Z, McMillan E, Kosti A, Yang CR, Suraokar M, Wistuba II, Gazdar AF, Minna JD, White MA, Pertsemlidis A. Genetic mutation of p53 and suppression of the miR-17∼92 cluster are synthetic lethal in non-small cell lung cancer due to upregulation of vitamin D Signaling. Cancer Res. 2015 Feb 15;75(4):666-75. PubMed PMID: 25519225; PubMed Central PMCID: PMC4333022.

Zhao Z, Ma X, Sung D, Li M, Kosti A, Lin G, Chen Y, Pertsemlidis A, Hsiao TH, Du L. microRNA-449a functions as a tumor suppressor in neuroblastoma through inducing cell differentiation and cell cycle arrest. RNA Biol. 2015;12(5):538-54. PubMed PMID: 25760387; PubMed Central PMCID: PMC4615578.

Du L, Zhao Z, Ma X, Hsiao TH, Chen Y, Young E, Suraokar M, Wistuba I, Minna JD, Pertsemlidis A. miR-93-directed downregulation of DAB2 defines a novel oncogenic pathway in lung cancer. Oncogene. 2014 Aug 21;33(34):4307-15. PubMed PMID: 24037530; PubMed Central PMCID: PMC4281941.

Zhao Z, Ma X, Hsiao TH, Lin G, Kosti A, Yu X, Suresh U, Chen Y, Tomlinson GE, Pertsemlidis A, Du L. A high-content morphological screen identifies novel microRNAs that regulate neuroblastoma cell differentiation. Oncotarget. 2014 May 15;5(9):2499-512. PubMed PMID: 24811707; PubMed Central PMCID: PMC4058022.

Du L, Borkowski R, Zhao Z, Ma X, Yu X, Xie XJ, Pertsemlidis A. A high-throughput screen identifies miRNA inhibitors regulating lung cancer cell survival and response to paclitaxel. RNA Biol. 2013 Nov;10(11):1700-13. PubMed PMID: 24157646; PubMed Central PMCID: PMC3907480.