Undergraduate Minor in Latina/o Studies

The undergraduate minor in Latina/o Studies is a multidisciplinary university-wide program. Students learn about the social, political, economic, historical and cultural processes that impact Latina/o communities in the United States. Using a complement of courses from disciplines across the university, this minor will: (1) offer an academic and scholarly foundation for students to understand the experiences of Latinas/os using a global perspective; (2) educate students about the cultural competency skills necessary to work with Latina/o communities; and (3) expose students to the theoretical and research methodologies in Latina/o Studies. While this minor is officially housed with the Sociology Department.
---
Requirements
18 hour minor
Students in the minor take two required courses: Introduction to Latina/o Studies, which provides historical and contemporary context, and Latina/o Identities, Communities and Social Change, exploring migration and immigration, public policy and leadership.
Students take four elective courses to complete the minor. Faculty experts from across the university teach elective courses in the minor that apply cultural perspectives to their fields, including: communication studies, criminal justice, family and child development, marketing, music and political science.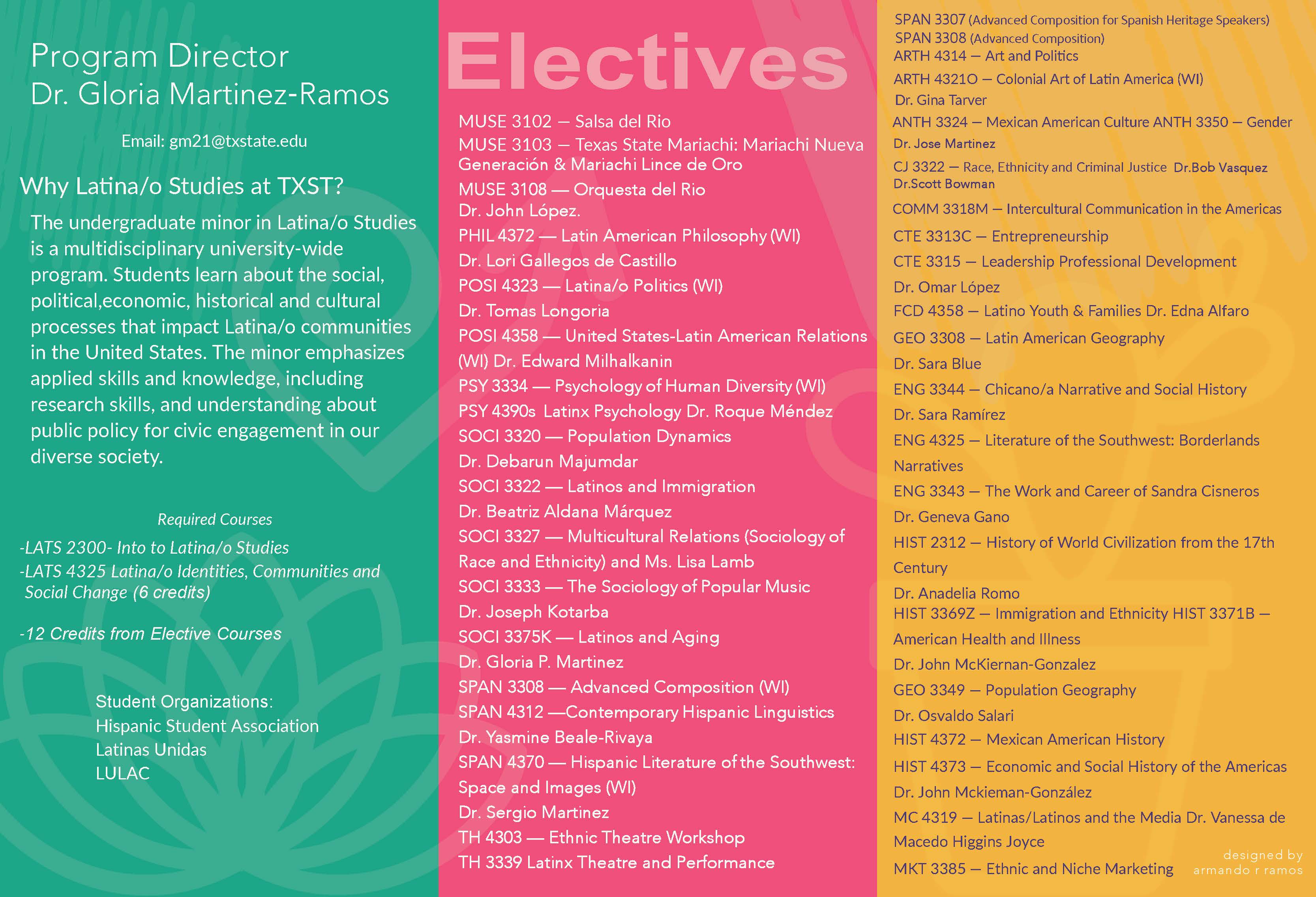 Research and Career Opportunities
Graduates with cultural competency skills and an understanding of multiple cultures will be well positioned for professional roles in the nation's changing workforce. The Latina/o Studies minor prepares students for careers in education, government, nonprofit organizations, research, social services, the arts and more. Graduates will also be prepared for advanced study in areas such as law, business and medicine.
Student Orginazations
Hispanic Student Association
Latinas Unidas
LULAC
For more information please contact our Director Dr. Claude Bonazzo Romaguera Jr. or the Sociology Department here.
Recent Events and Collaborations
Papeles y Amores: Advancing Equity of DACA/Undocumented and Students in Higher Education
Dr. Laura Enriquez discussed how Universities can foster educational equity for Undocumented college students from mixed-status families. The webinar explored four persisting barriers: financial need, academic distraction, mental health, and limited postgraduate preparation. Additionally, Dr. Enriquez discussed how immigration policy affects romance and family.
The Health Status and Challenges of Mexican Immigrants in the New York City Area
Visiting Fulbright Outreach Lecturer from Mexico City Presents Research in Texas State's Public Health Program. More info.

2020 HSI Week

2020-2021 Common Experience Events