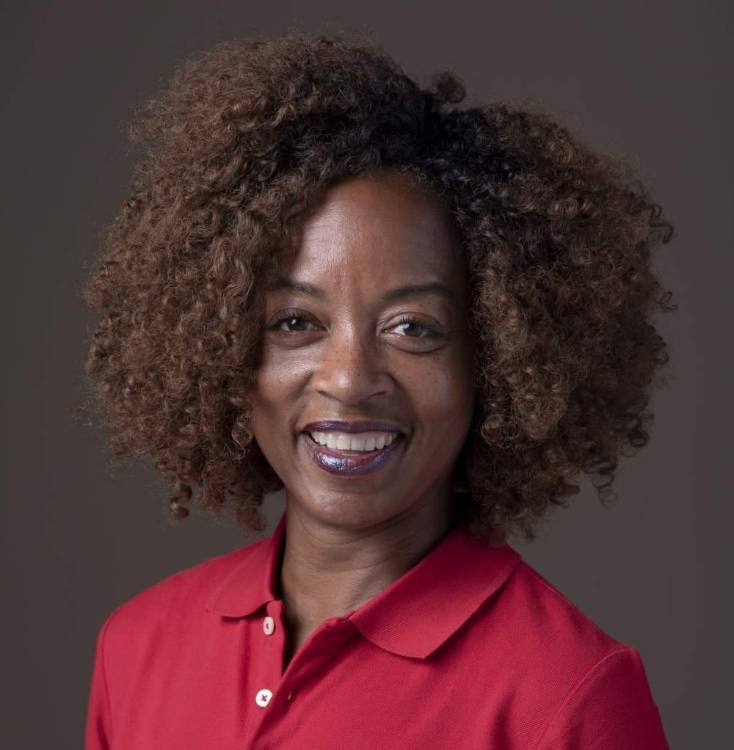 Associate Professor
Director, African American Studies Program
Office: TMH 207
Email: dwonnagoldstone@txstate.edu
Phone: 512.245.2142
Education:
B.A. in American Studies with a minor in African American Studies from the University of Iowa
M.A.T. in Secondary English Education from Brown University
PhD in American Civilization from the University of Texas-Austin
Research interests:
Currently finishing an article titled "Teaching While Black: A Black Professor in Trump Land" and an article on Barbara Conrad Smith, an African American student at the University of Texas in the 1950s.
Specialization:
African American history and culture, Black women in history
Dr. Dwonna Naomi Goldstone grew up in Moline, Illinois, (home of the John Deere Tractor) and received her B.A. in American Studies and a minor in African American Studies from the University of Iowa. After receiving her M.A.T. in Secondary English Education from Brown University, Dr. Goldstone taught high school English in Fairfax County, Virginia, where she also coached 9th-grade girls' basketball and boys' and girls' track. She received her PhD from the University of Texas at Austin in American Civilization, and her book—Integrating the Forty Acres: A Fifty-Year Struggle for Racial Equality at the University of Texas—won the Coral H. Tullis Memorial Prize for the best book on Texas history. Before arriving at Texas State in August 2019, Dr. Goldstone spent 18 years at Austin Peay State University in Clarksville, Tennessee, where she taught English and coordinated their African American Studies minor. She is happy to be here with her three dogs—Lena Horne, Ernie Banks, and Ralph Ellison.
Dr. Goldstone is currently working on three essays—one about Barbara Conrad Smith, a black undergraduate student at the University of Texas in its first year of integration (1956-7) who was removed from the school's opera; a second titled "Teaching While Black: A Black Professor in Trump Land"; and a third on teaching feminism in a men's prison. She recently taught a class at the Lois DeBerry Special Needs prison in Nashville, Tennessee, and her students read feminist novels such as Kate Chopin's The Awakening and Theodore Dreiser's Sister Carrie. Her goal is to create an inside/out program at a prison in Texas, where Texas State students will take a class with students who are incarcerated.
AAS 2310 | Introduction to African American Studies
Courses Under Development
Black Women. Black Protest
Race, Gender, and Sexuality
Blacks, Film, and Society
Negotiating the Color Line
The Black Power Movement