Wind Symphony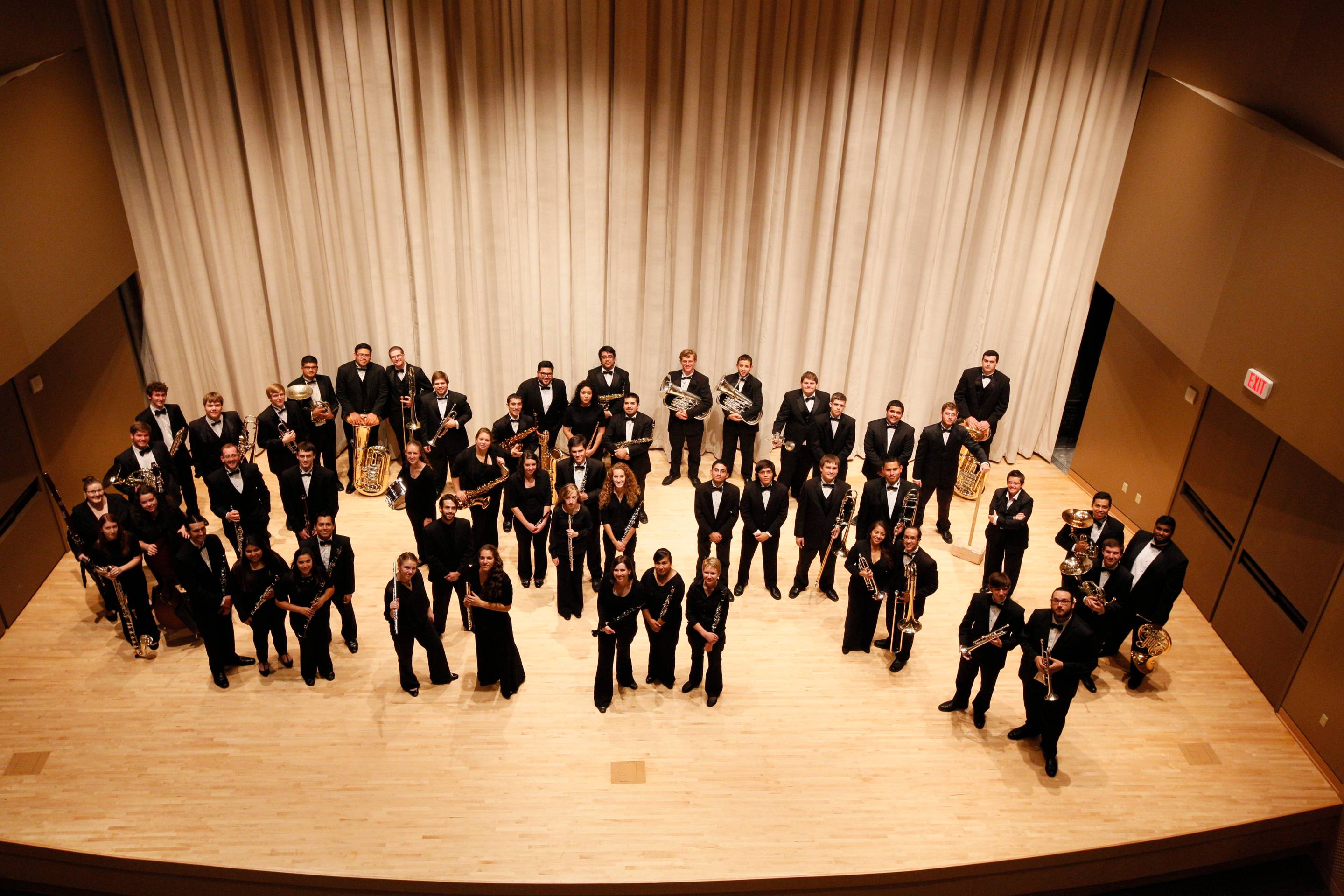 The TEXAS STATE UNIVERSITY WIND SYMPHONY is comprised of the most outstanding wind and percussion musicians at the university as selected by audition. The ensemble is dedicated to providing students and audiences with compelling performances of the finest repertoire. While celebrating the traditional and core repertoire of the wind band, the Texas State Wind Symphony is also involved in commissioning projects and premieres of newly minted compositions for the medium. Recent premiere performances include Michael Ippolito's Machine Become Music, Margaret Brouwer'sPulse, Ryan Chase's Bad Voodoo, and David Maslanka's Symphony No. 9. The ensemble actively collaborates with composers and artists through residencies and recording projects including events with Ron Ulen, Margaret Rose Koenn, Karla Hamelin, Steven Bryant, Margaret Brouwer, John Mackey, David Maslanka, Merlin Patterson, Jonathan Newman, David Heckendorn, James Keene, and Daniel Montoya.
Since 2011, the Texas State Wind Symphony has been under the direction of Caroline Beatty. As Director of Bands, Dr. Beatty's responsibilities include providing administration and oversight of the university band program, conducting the Wind Symphony, as well as teaching conducting and band literature. Additionally, during the 2014-2015 academic year, she served as conductor of the Texas State Symphony Orchestra.
Over the years, the Texas State Wind Symphony has been selected by jury to perform at numerous regional and national events held by the Texas Music Educators Association, the College Band Directors National Association, the College Music Society, and the Music Educators National Conference.
2019-2020 Wind Symphony World Premieres
Commissions for the Centennial of the Texas State Bands
Red Hilled Crown - Daniel Montoya, Jr.
October 4, 2019
7:30 PM Evans Auditorium
The universe is full of doors - Ryan Chase
March 6, 2020
7:30 PM Evans Auditorium
Cuckoo Variations for small wind ensemble
Michael Ippolito
April 8, 2020
7:30 PM Performing Arts Center Recital Hall
(TBA) - Wayne Oquin
May 2, 2020
7:30 PM Patti Strickel Harrison Theatre
Hear the Texas State Wind Symphony on the following recordings
TMEA 2015 Texas State Wind Symphony – Mark Records Label
"Winds of Time" by David Heckendorn - Todd Oxford, Saxophone – Equilibium Label
Live! Texas State Wind Symphony and Bobcat Marching Band
"Machine Become Music" by Michael Ippolito
http://www.michaelippolito.com/machine-become-music/
"Triumph" by Steven Bryant
https://www.stevenbryant.com/music/catalog/paean-triumph
"Sheltering Sky" by John Mackey
https://soundcloud.com/ostimusic/john-mackey-sheltering-sky
"…my consciousness" by Daniel Montoya – danielmontoya.com
Symphonic Winds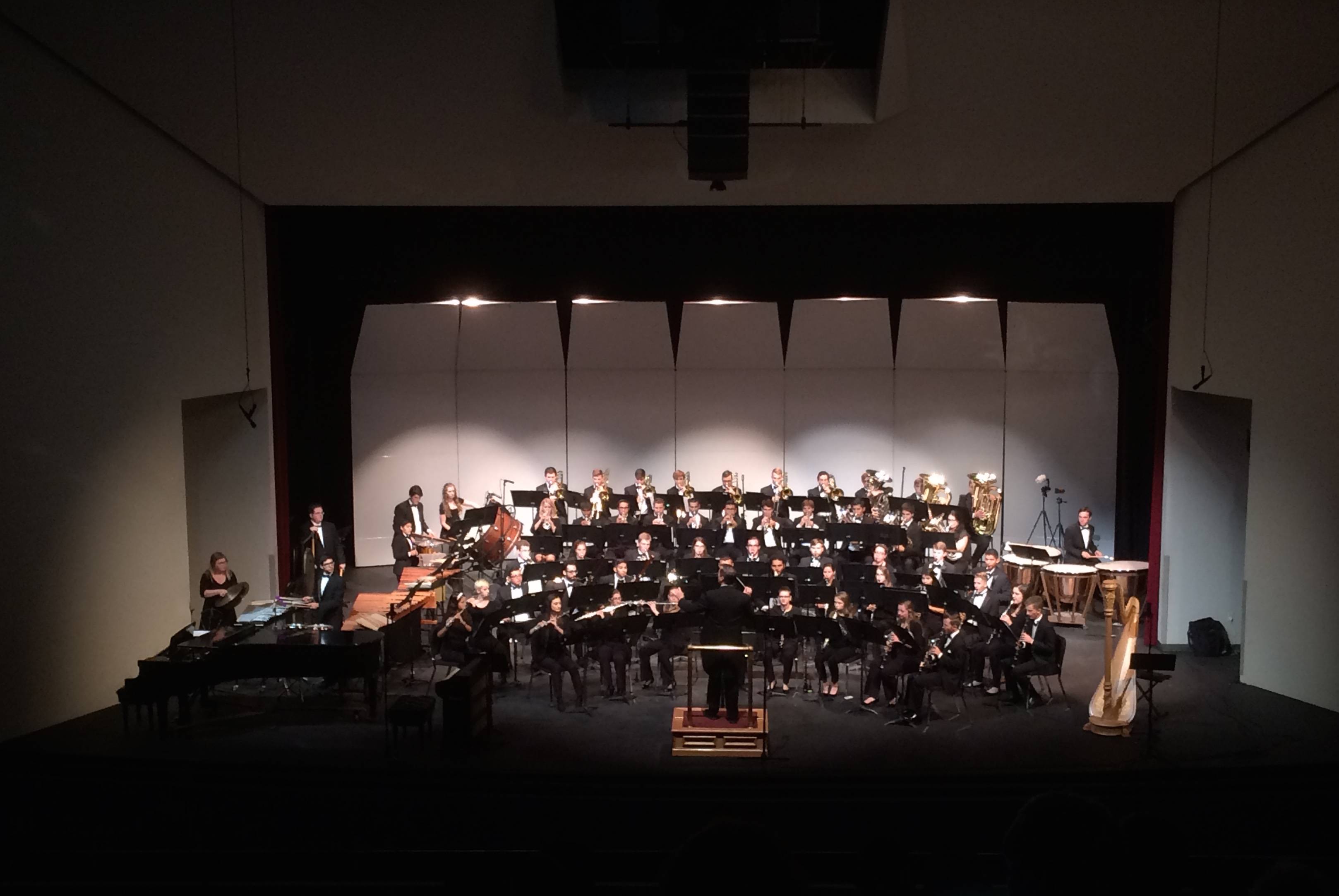 The Texas State Symphonic Winds, conducted by Dr. Kyle Glaser, is comprised of both music and non-music majors and performs the finest classic and contemporary literature for winds. The ensemble rehearses on Tuesdays and Thursdays in both the fall and spring semesters from 12:30 to 2:20 pm and each student receives one hour of university credit per semester for participation.
Concert Band
The Texas State Concert Band, conducted by Mr. Matthew Holzner, meets in both the fall and spring semesters and is open to all students. Membership in the Concert Band consists of both music and non-music majors. Non-music majors are not required to audition for and every student in the university regardless of major is invited and encouraged to participate. One hour of university credit is given to each participating student. The ensemble rehearses on Tuesdays and Thursdays from 5:00-6:50 pm.