Center for Geospatial Intelligence and Investigation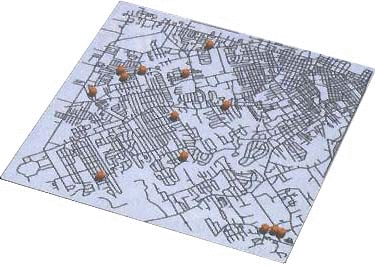 The Texas State University Center for Geospatial Intelligence and Investigation (GII) studies how to improve our response to crime problems and homeland security threats, both foreign and domestic. Our research uses geospatial and other forms of tactical information to develop information management models. GII provides specialized training for law enforcement, intelligence, and military agencies. Operational assistance for government agencies is also available in certain situations.
Employing a cross-disciplinary and multiagency approach, GII seeks to help law enforcement and intelligence agencies build more powerful investigative and analytic tools. Computer modeling based on human behavioral theories help extract knowledge from information and data, assisting police and intelligence agencies in connecting the dots in environments of information overload and uncertain threat. The ongoing development and implementation of geographic profiling for violent and property crime, and terrorism and insurgency problems, is one example of the Center's work.
For information, please contact:

Center for Geospatial Intelligence and Investigation
Kim Rossmo, PhD
Research Professor
KRossmo@TxState.edu