Honoring Black History Month 2022: African Migration into South Texas and Mexico, 1850's-2020's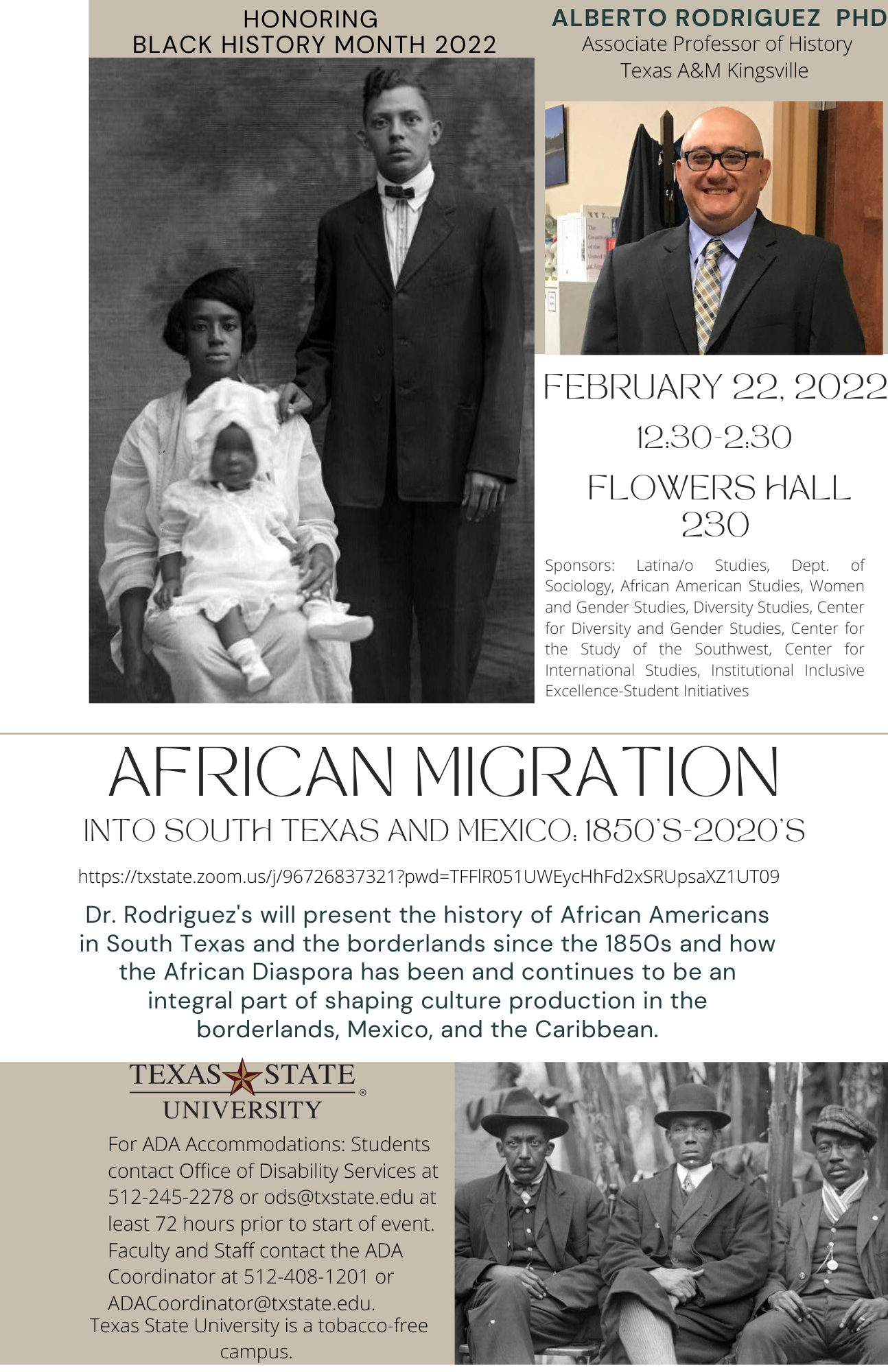 When: February 22, 2022 12:30-2:30p.m.
Place: Flowers Hall 230
Dr. Rodriguez's will present the history of African Americans in South Texas and the borderlands since the 1850s and how the African Diaspora has been and continues to be an integral part of shaping culture production in the borderlands, Mexico, and the Caribbean.
Sponsors: Latino/a Studies, Dept. of Sociology, African American Studies, Women and Gender Studies, Diversity Studies, Center for Diversity and Gender Studies, Center for the Study of the Southwest, Center for International Studies, Institutional Inclusive Excellence-Student Initiatives
Radical Empathy with Professor Terri Givens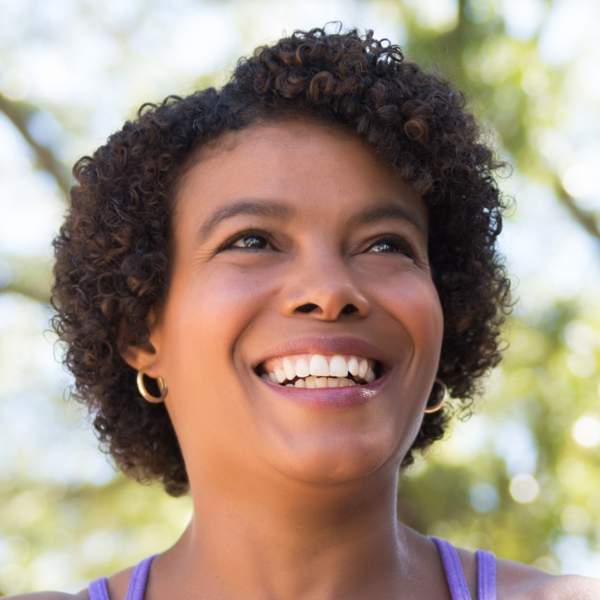 When: March 9, 2022 from 7:30p.m. to 9:00 p.m.
Place: Online Event
Join Professor Terri Givens as we discuss her book Radical Empathy: Finding a Path to Bridging Racial Divides.

Professor Givens teaches political science at McGill University and is the CEO and Founder of the Center for Higher Education Leadership. She has more than 30 years of success in higher education, politics, international affairs, and non-profits. Dr. Givens has held leadership positions as Vice Provost at University of Texas at Austin and Provost of Menlo College (first African American and woman), as well as professorships at University of Texas at Austin and University of Washington. She was the founding director at the Center for European Studies at the University of Texas and led the university's efforts in Mexico and Latin America as Vice Provost for International Activities. At Menlo College she led faculty and staff in developing programs for first-generation students, updating curriculum and infrastructure for evidence-based assessment. Professor Givens is a member of the American Political Science Association and was elected to APSA's Council in 2021
Alice Embree: Voice Lessons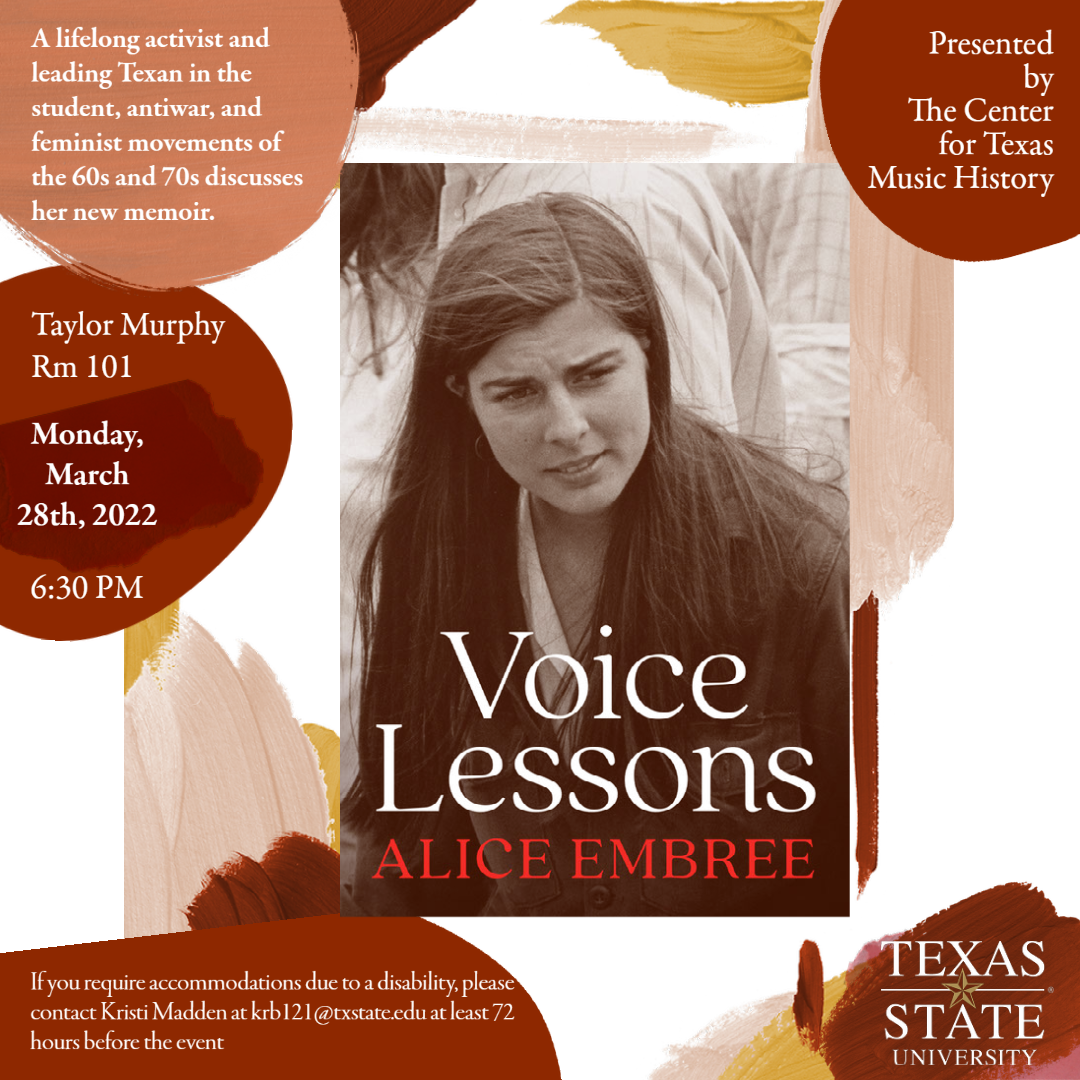 Place: Taylor Murphy Rm 101
When: Monday, March 28, 2022 at 6:30 p.m.
A lifelong activist and leading Texan in the student antiwar, and feminists movements of the 60s ad 70s discusses her new memoir.
The Decorators: The Women Who Professionalized Interior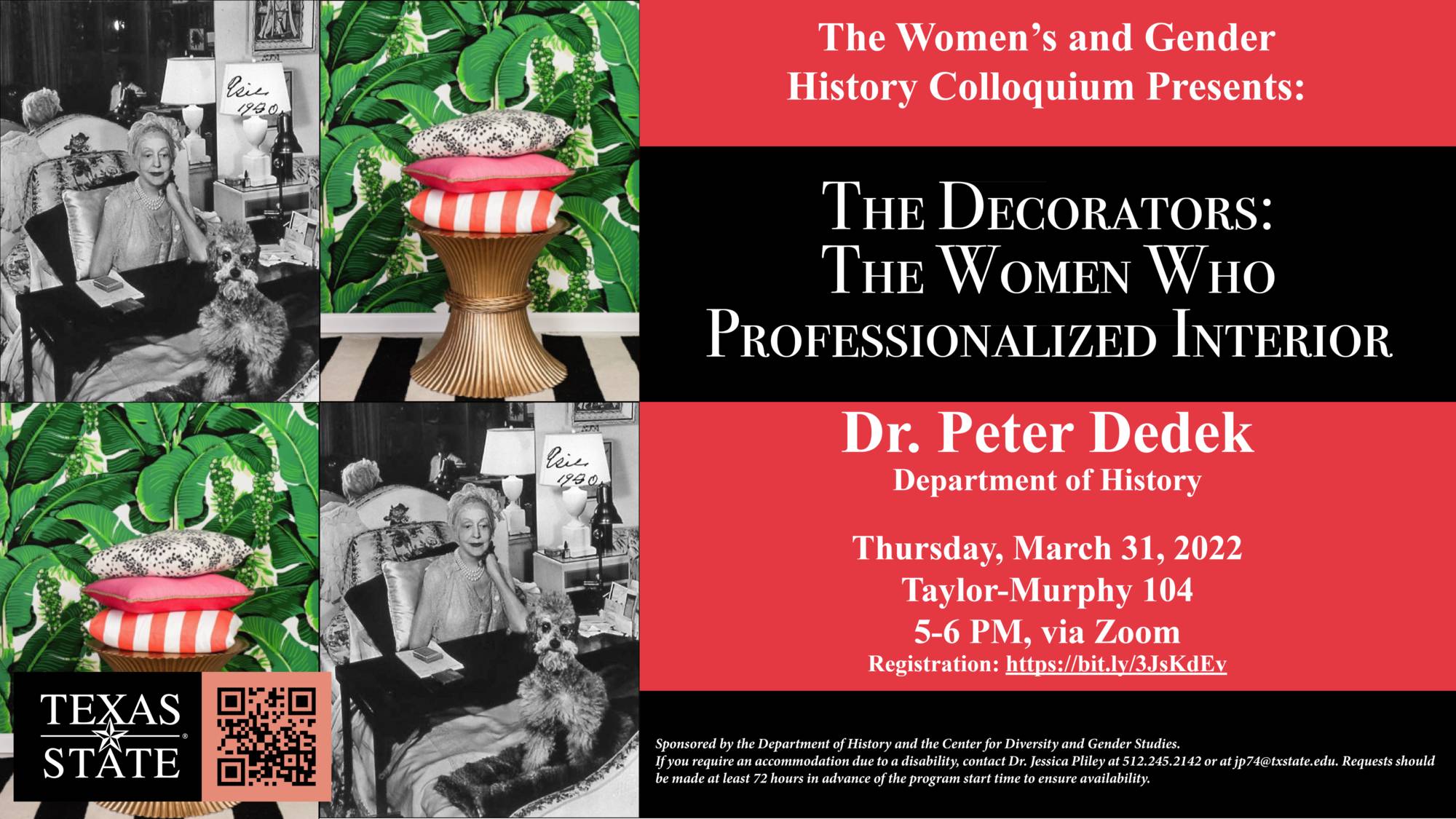 For Women's History Month, the Women's and Gender History Colloquium will be featuring a book talk by Dr. Peter Dedek about the women who professionalized Interior Design. Please feel free to join us in person or via Zoom.
Thursday, March 31, 2022, 5:00 – 6:00 pm, Taylor Murphy 104 or Zoom.
Women's Leadership Symposium: Dynamic Women, Diverse Paths

Please join the President's Council for Women in Higher Education and other sponsors on Friday, April 1, 8:30 am – 12:-00 pm, for the second annual Texas State Women's Leadership Symposium. An entirely online and free event, the Symposium will feature 12 dynamic women in government, business, and higher education discussing their diverse paths to leadership. We hope for a mix of inspiration and practical takeaways for those asking "What's Next?" in their careers. All Texas State University students, faculty, staff, alumni, and friends are welcome to attend any or all panels of interest.
International Film Festival & Symposium on Consent: Age of Consent and Abuse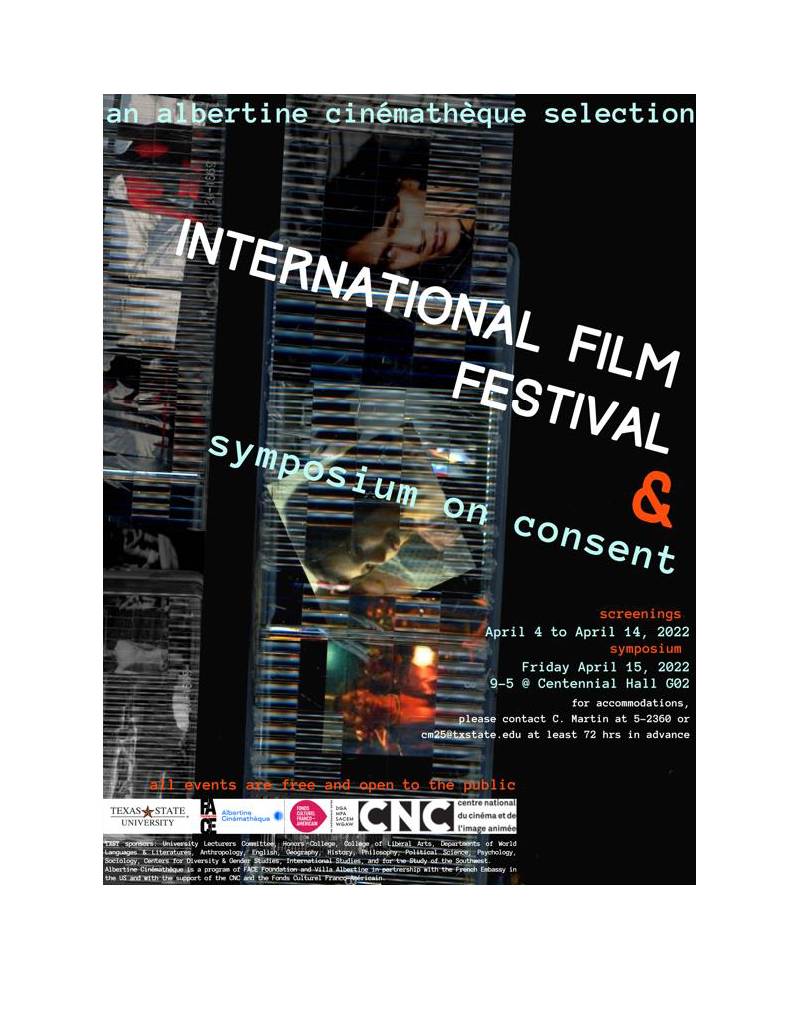 When: Monday, April 4th from 6:00p.m. to 8:00 p.m.
Place: Online (via Zoom/TBA), on campus (CENT G02), or at Stellar Coffee co. in San Marcos
Campus Sponsor: University Lecturers Committee, Honors College, College of Liberal Arts, Departments of World Languages & Literatures, Anthropology, English, Geography, History, Philosophy, Political Science, Psychology, Sociology, Centers for Diversity & Gender Studies, International Studies, and for the Study of the Southwest.

Online: Little Boy, by Roland Klick, 1968, German
When the parents of a suburban, middle-class family go to a party, they leave Achim and his baby sister under the supervision of Monika, the neighbor's daughter. Soon after the parents are gone, Monika ditches babysitting to go out with her boyfriend, and Achim murders the baby by means of suffocation. Roland Klick's debut feature is a film that uses cinema as a means to comment on German society. Much of the film is spent in the aftermath of the crime with the parents and neighbors trying to figure out who is responsible with both Monika and Achim denying any involvement or taking any responsibility for their actions.
Suggested and run by Dr. Lisa Haegele, Assistant Professor of German, with short intro/pre-symposium survey/after-film Q&A

On Campus (Centennial Hall G02): Slalom, by Charlène Favier, 2020, French
This Cannes-selected #MeToo drama from debut filmmaker Charlène Favier follows the relationship between a teenage ski prodigy and her predatory instructor, played by Dardenne brothers' collaborator Jérémie Renier. In a breakthrough role, Noée Abita plays 15-year-old Lyz, a high school student in the French Alps who has been accepted to an elite ski club known for producing some of the country's top professional athletes.
Run by Dr. Jennifer Forrest, Professor of French, with short intro/pre-symposium survey/after-film Q&A

Stellar Coffee co.: Little Girl, by Sébastien Lifshitz, 2020, French
Petite Fille is the portrait of 7-year-old Sasha, who has always known that she is a girl. Sasha's family has recently accepted her gender identity, embracing their daughter for who she truly is while working to confront outdated norms and find affirmation in a small community of rural France.
Run by Dr. Carole Martin, Professor of French, with short intro/pre-symposium survey/after-film Q&A

If you require accommodations due to a disability, please contact C. Martin at 5-2360 or cm25@txstate.edu at least 72 hours in advance of the event.
Adela Sloss-Vento: Mexican American Author, Civil Rights Activists and Feminist Before 1990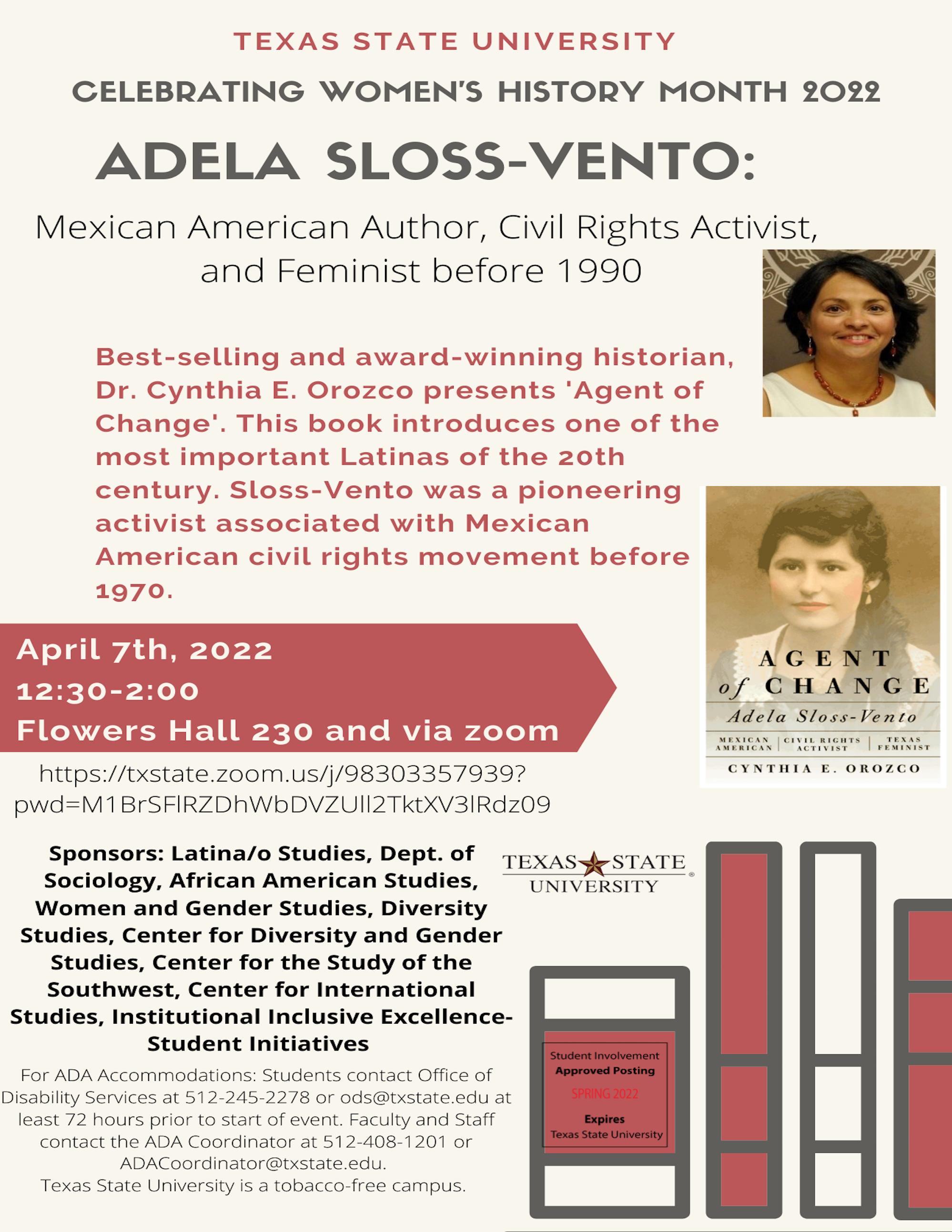 Dr. Cynthia E. Orozco will be speaking on her most recent book on Adela Sloss-Vento: Mexican American Author, Civil Rights Activist, and Feminist before 1990. This presentation introduces one of the most important Latinas of the 20th century. Born in San Juan in the Rio Grande Valley in South Texas, Sloss-Vento was a pioneering activist associated with Mexican American civil rights movement before 1970 and who fought against racial segregation and low wages. She was also a Chicano movement supporter advancing bilingualism, student activism, and Chicana feminism. A public intellectual, she wrote a book about LULAC's principal founder Alonso Perales as well as numerous letters to the editor and op-eds in both Spanish and English newspapers across more than six decades.
Dr. Cynthia E. Orozco is a best-selling and award-wining historian from Cuero, Texas. She attended Southwest Texas State and graduated from UT Austin and UCLA. She is Professor of History at Eastern New Mexico University, Ruidoso. Her books include: of No Mexicans, Women or Dogs Allowed: The Rise of the Mexican American Civil Rights Movement, the University of Texas Press' best-selling academic book between 2010 and 2020; Agent of Change: Adela Sloss-Vento, Mexican American Civil Rights Activist and Texas Feminist which won the Liz Carpenter Award for Best Book in Texas women's history 2020 from the Texas State Historical Association; and Pioneer of Mexican American Civil Rights: Alonso S. Perales.
Date: April 7, 12:30pm.- 2:30pm In person and via zoom in Flowers 230
CDGS Minors Graduation Celebration Invitation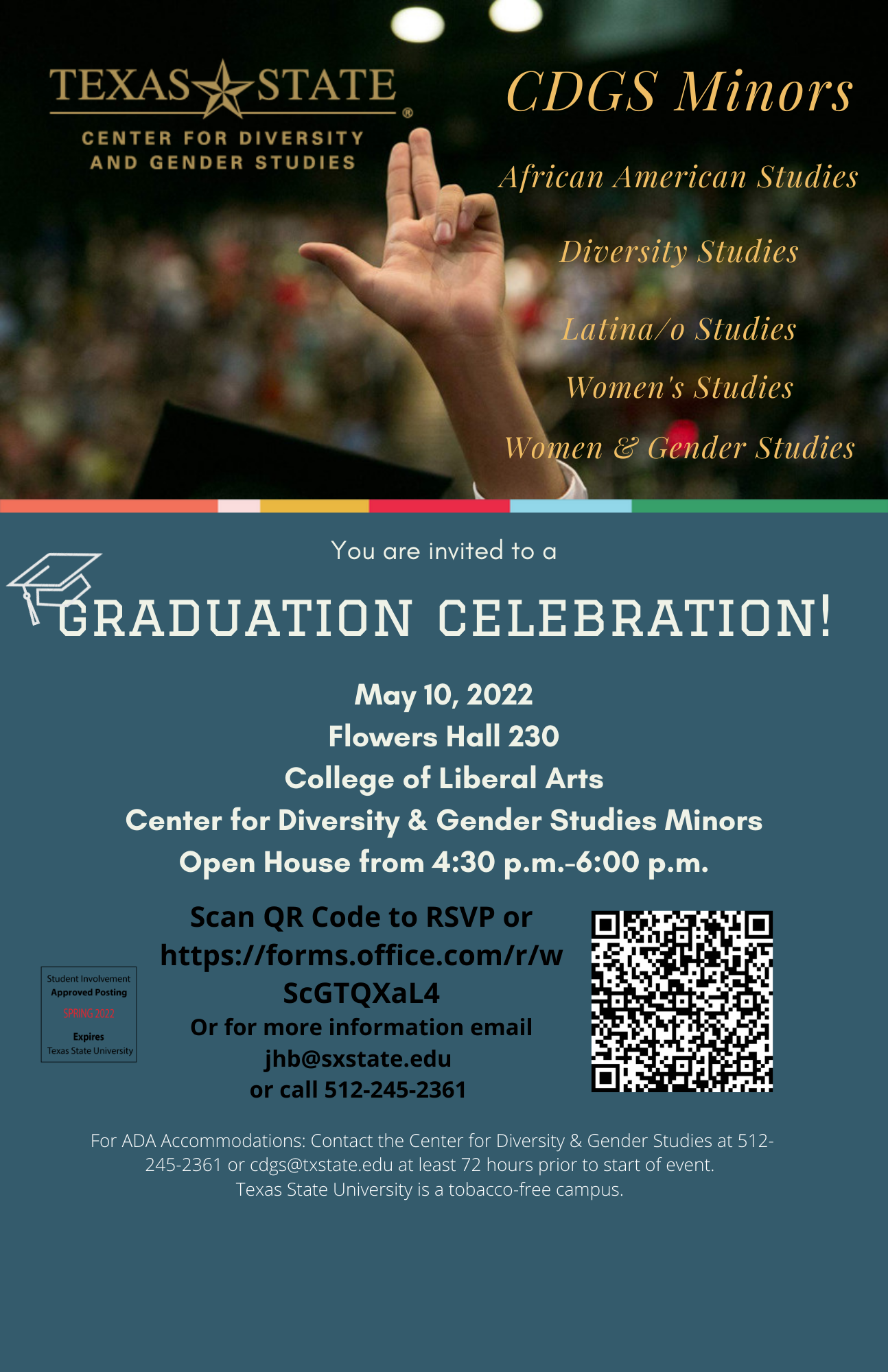 Dear Center for Diversity and Gender Studies (CDGS) Graduates:
We would like to invite you to a CDGS Graduation Open House on Tuesday, May 10, 2022, from 4:30 p.m. to 6:00 p.m. in Flowers 230. This will be a come-and-go event, so feel free to drop by and say hello to your CDGS professors and fellow classmates at a time that is convenient for you.
There will be light refreshments, and we will hand out certificates for having completed your minor.
We also hope that you will invite your friends, family, and significant others so that they can help you celebrate your graduation from Texas State University and your minor in one of our programs—African American Studies, Diversity Studies, Latino/a Studies, or Women and Gender Studies.
Finally, we would like to share photos of you at the reception on the PowerPoint—a baby photo and a TXST graduation photo. You can reply to this email with the two photos, or you can email them to Jonafa Banbury. The deadline to submit your photos is April 25, 2022.
Lastly, please let us know how many guests you will invite to accompany you to the celebration
We look forward to seeing you and your guests on Tuesday, May 10.
Warmly,
Dr. Dwonna Naomi Goldstone
Dr. Gloria P. Martinez-Ramos
Dr. Jessica Pliley