Past Events for Spring '21
Papeles y Amores: Advancing Equity of DACA/Undocumented and Students in Higher Education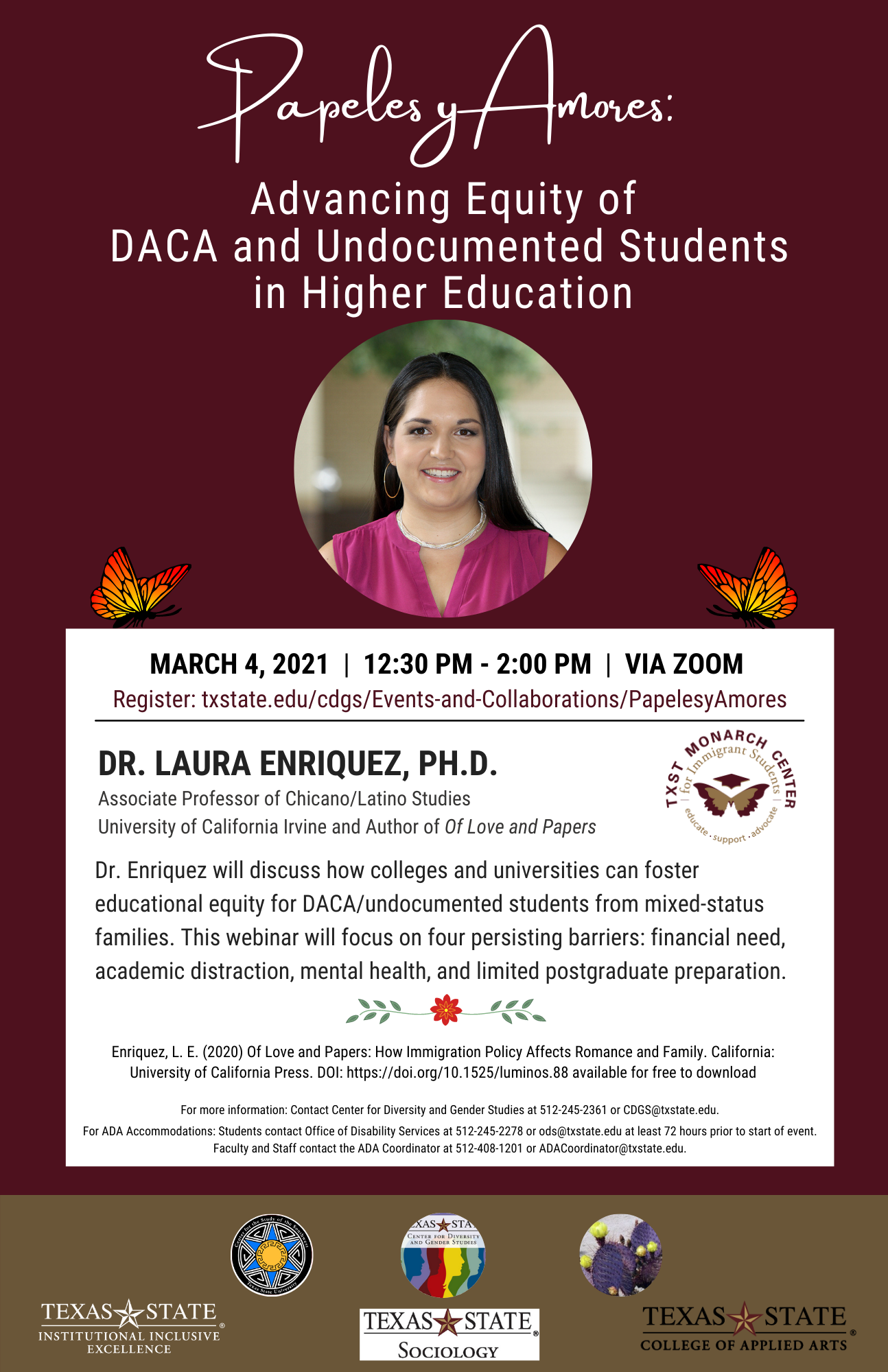 Dr. Laura Enriquez discussed how Universities can foster educational equity for Undocumented college students from mixed-status families. The webinar explored four persisting barriers: financial need, academic distraction, mental health, and limited postgraduate preparation. Additionally, Dr. Enriquez discussed how immigration policy affects romance and family.
New Leadership Texas Info Session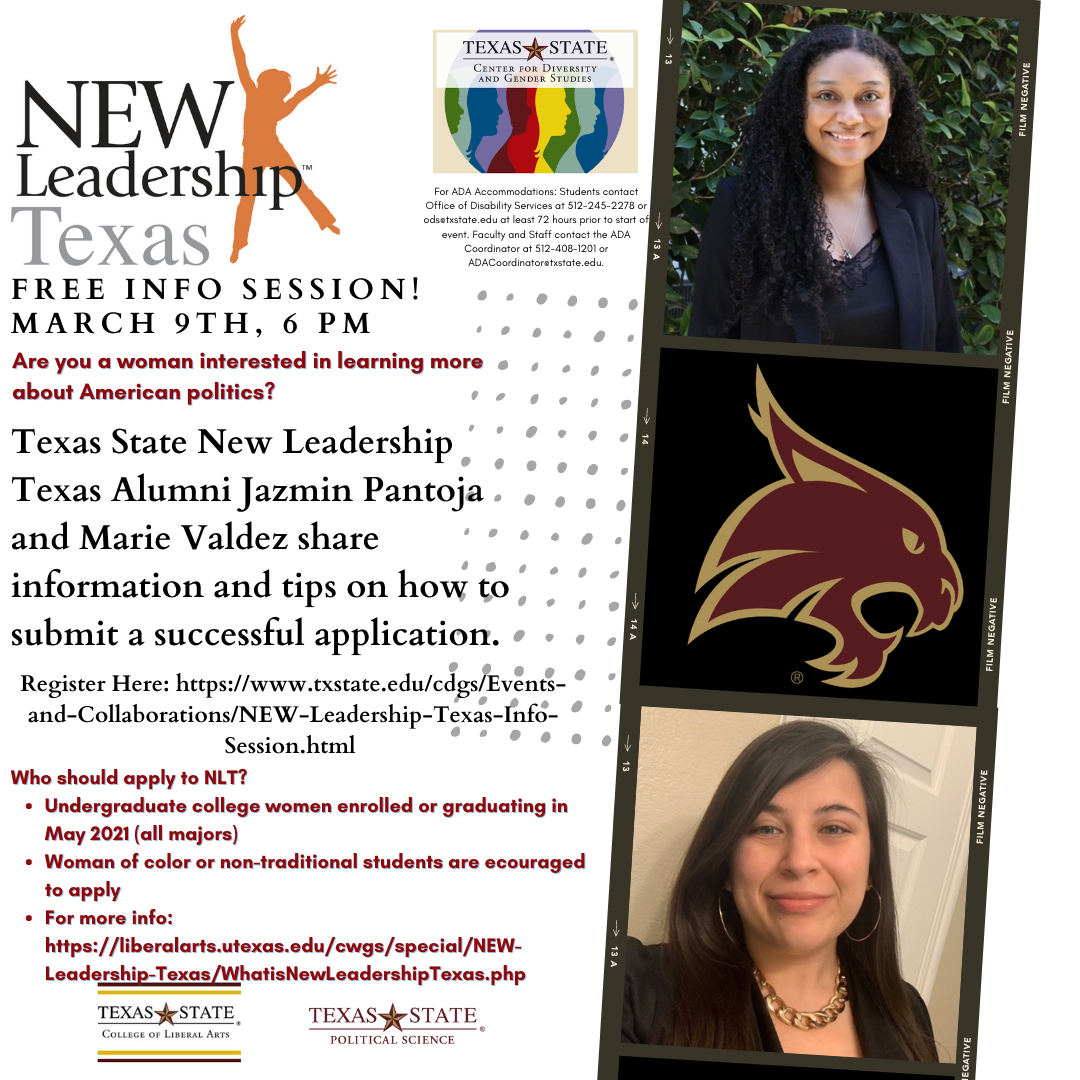 Tuesday, March 9, 2021
6 - 7:00 PM
Virtual via Zoom
Sponsors/Collaborators
Center for Diversity and Gender Studies, Department of Political Science, College of Liberal Arts
CDGS hosted Texas State NEW Leadership Texas Alumni Jazmin Pantoja and Marie Valdez to share information and tips on how to submit a successful application. Find out more about the NEW Leadership Texas program here!
The Dunbar Heritage Association: Community Past and Present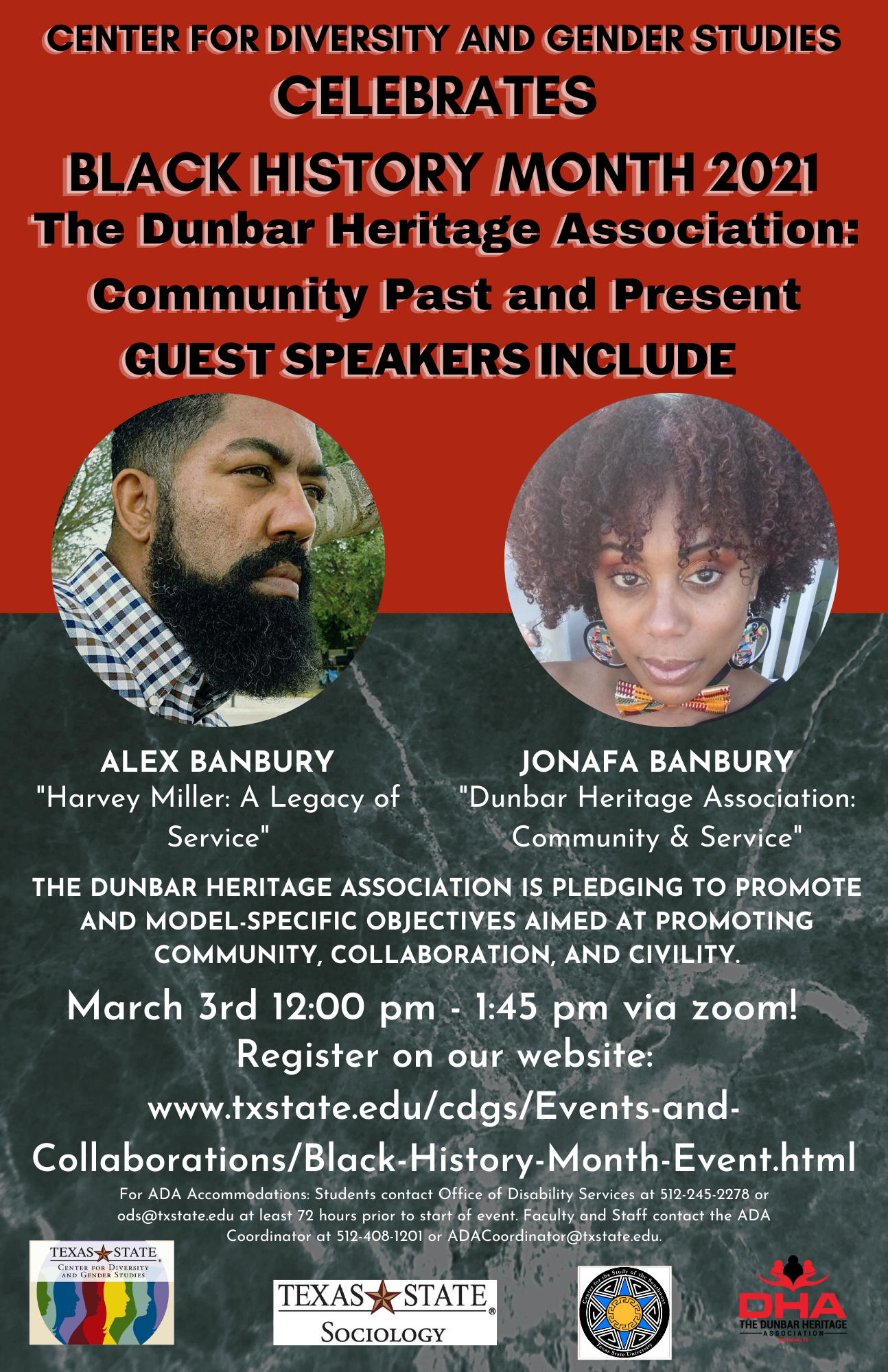 CDGS recently hosted The Dunbar Heritage Association who shared information about their mission. Guest speaker Alex Banbury discussed Harvey Miller and his footprint in the San Marcos community. Fellow guest speaker Jonafa Banbury held a separate discussion about DHA's past and present events centered on black culture. This event was also coordinated in celebration of Black History Month. See the files below for more info from the DHA!
"Black Migration, New York City, and Jim Crow" with Dominique Jean-Louis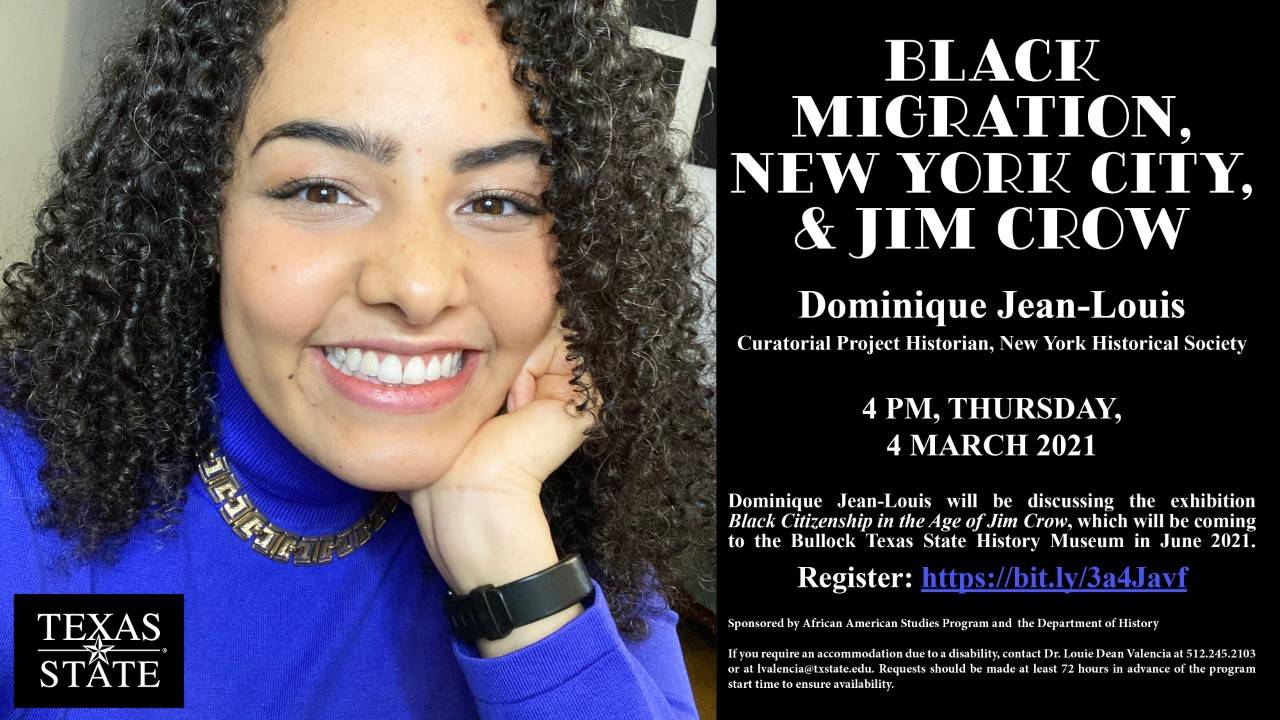 This event was sponsored by the African American Studies minor and the Department of History. Please direct all questions and concerns to Dr. Dwonna Goldstone at dwonnagoldstone@txstate.edu or 512-245-2192.
Queer Collegiate Summit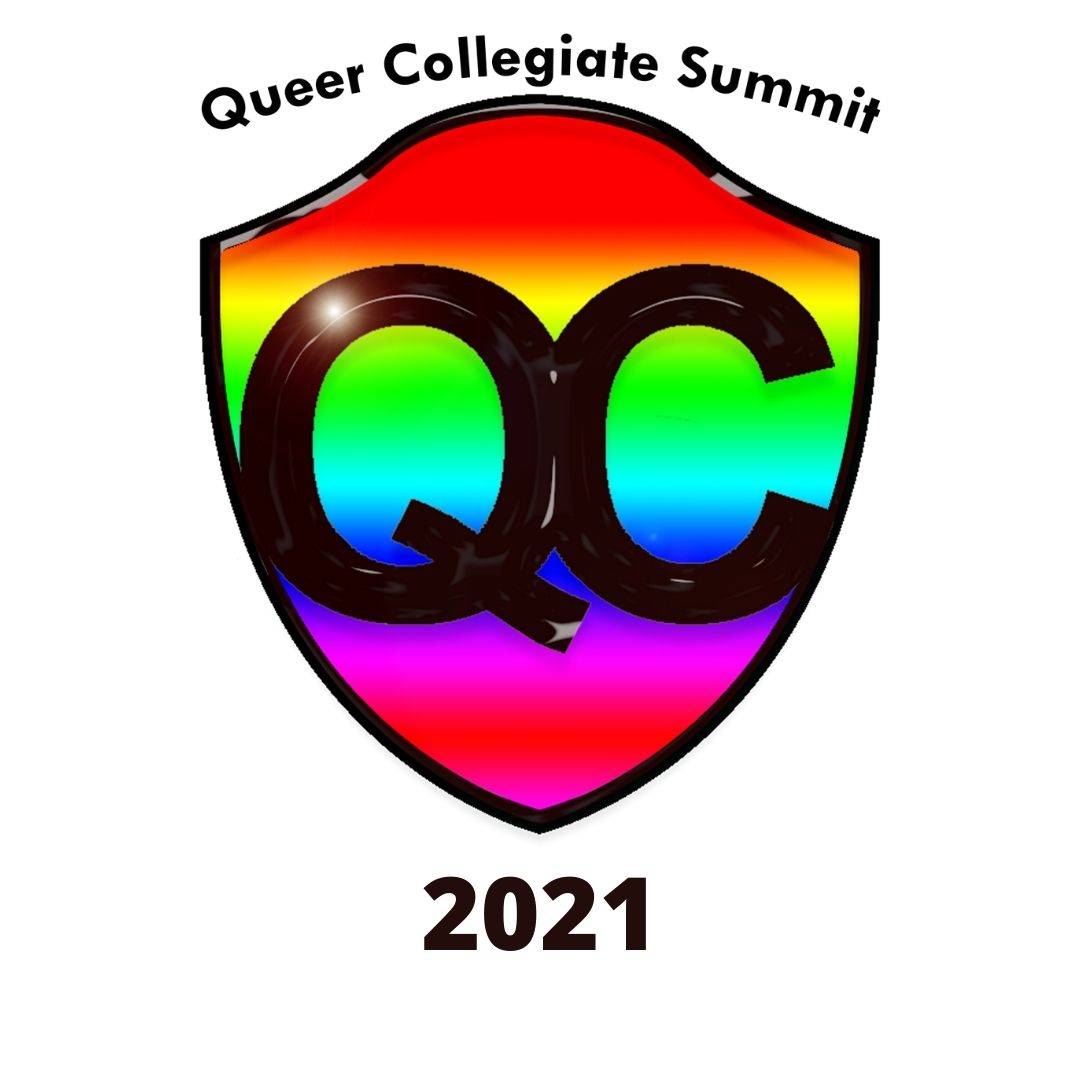 The Queer Collegiate Summit is a program specifically for LGBTQiA+ and Ally Students hosted by the office of Institutional Inclusive Excellence. The focus of this program is to encourage personal development and celebration in areas of involvement, community, academics, social justice, and activism. This year's Queer Collegiate Summit will focus on the empowerment of expression in queer culture. The event pays homage to those in history who have paved a path for others to celebrate their identities and experiences as queer individuals. The program includes keynote speakers, student performers and an award ceremony recognizing leaders throughout campus.
The Center both promotes and sponsors this yearly event along with other departments across campus.
Women's Leadership Symposium: Dynamic Women, Diverse Paths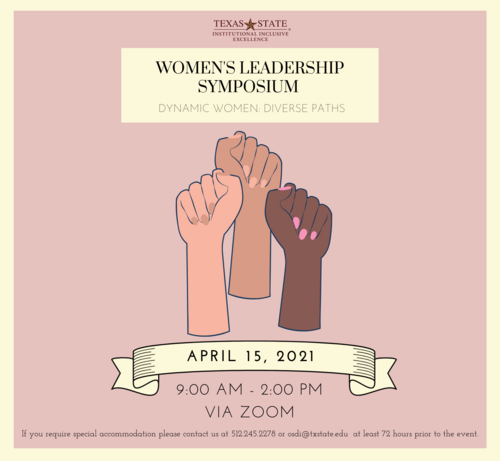 Dynamic Women, Diverse Paths is a half-day virtual symposium on women's leadership open to all students, faculty, and staff. The symposium offers participants insight into women's diverse paths to leadership positions in government, non-profit, and higher education.
Topics included mentorship, professional growth, and personal transformation.
Date: Thursday, April 15, 2021
Time: 9:00 AM - 2:00 PM
Cosponsors: the Council on Women in Higher Education, Common Experience, the College of Liberal Arts, the McCoy College of Business, and the Center for Diversity and Gender Studies.
The virtual symposium will be recorded and available for viewing after the event.
And More!
CDGS also co-sponsors events all across campus throughout the academic year. Make sure to follow us on social media and subscribe to out university calender to keep up to date on future events!
CDGS Events Calender
No results.