Missing in Brooks County: Film Screening & Panel Discussion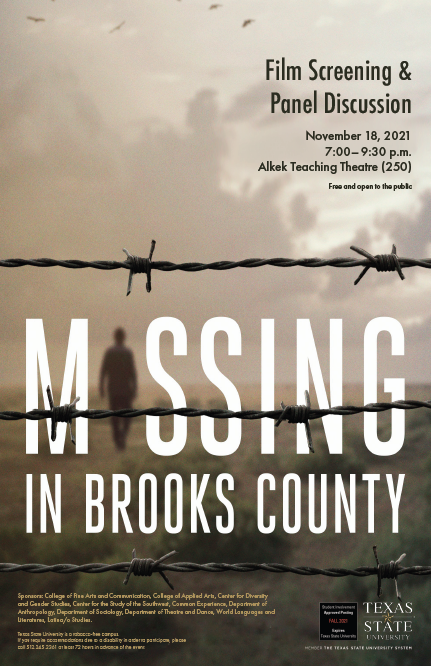 When: 11/18/21
Missing in Brooks County follows the stories of two families searching for their loved ones who went missing in the fields in Brooks County, Texas. A gripping drama, it is also a deeply humane portrait of the human rights workers, activists, and law enforcement agents who confront the life-and-death consequences of a broken immigration system.
A panel discussion moderated by Dr. John Mckiernan-González, Director of the Center for the Study of the Southwest, will immediately follow the film screening. Panelists will include:
Lisa Molomot, Co-director and producer of "Missing in Brooks County."
Jeff Bemiss, Co-director and producer of "Missing in Brooks County."
Dr. Kate Spradley, Professor of Anthropology and Director of Operation Identification at Texas State University.
Eddie Canales, Founder and director of the South Texas Human Rights Center in Falfurrias, Texas.
Unity Fest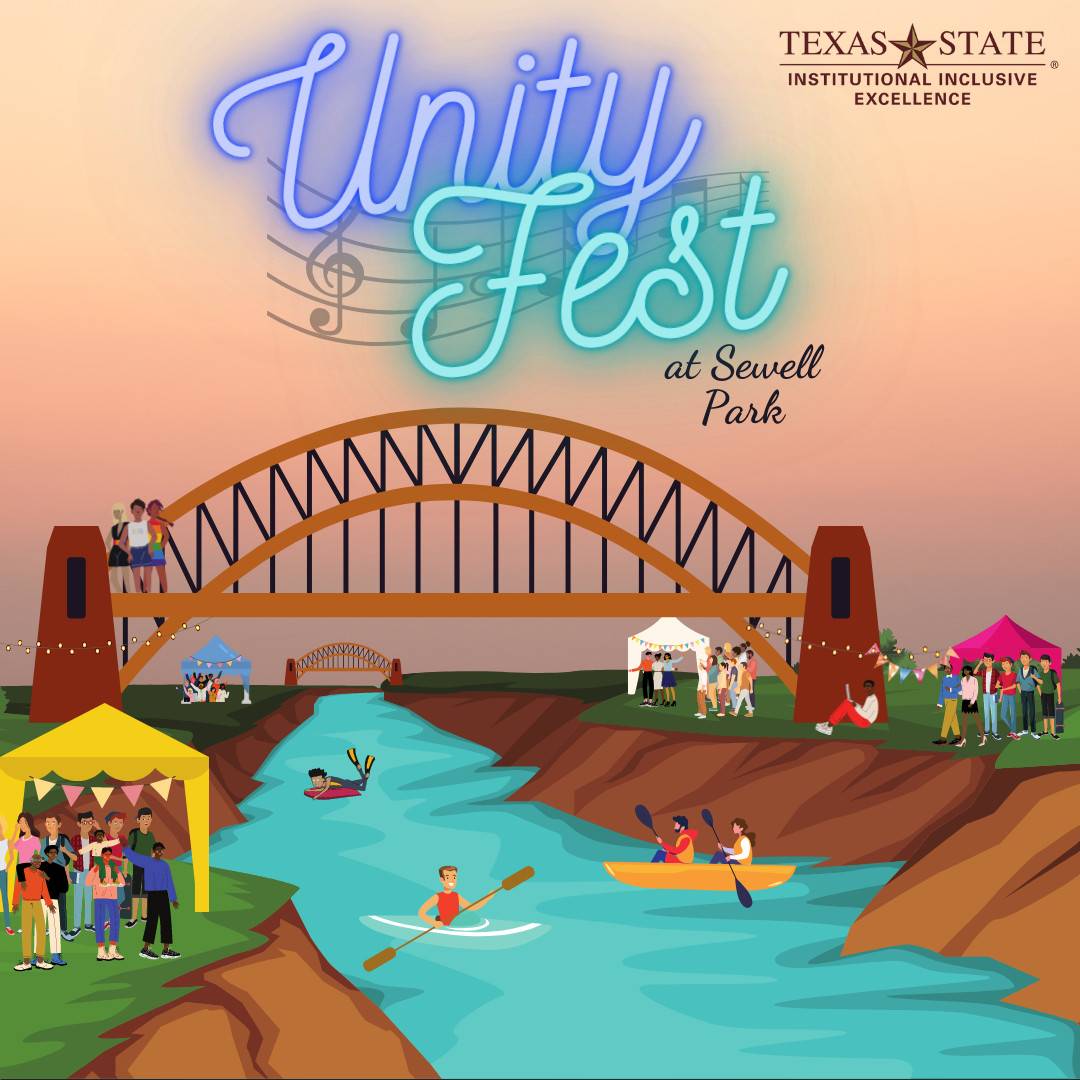 When: 9/8/21
Institutional Inclusive Excellence- Student Initiatives invites you to join us at our Unity Festival. The Unity Fest is a celebration of diversity, people, cultures and community. The program includes welcome remarks, live performances, food, activities fellowship and student organizational browse session.

CDGS will be participating at this event, we will be giving out promotional information as well as swag!
Sex Trafficking in the Motor City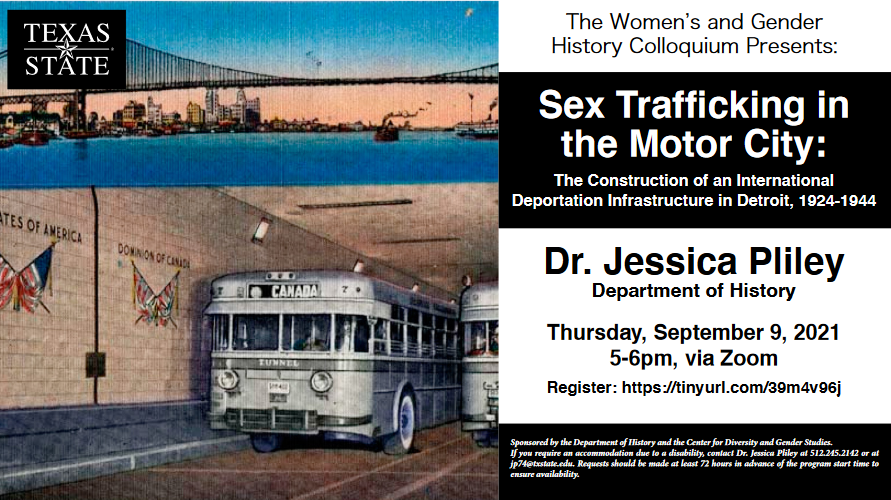 When: 9/9/21
Dr. Jessica Pliley will present her research on sex trafficking and immigration law in the 1930s.
Military Connected Welcome BBQ Picnic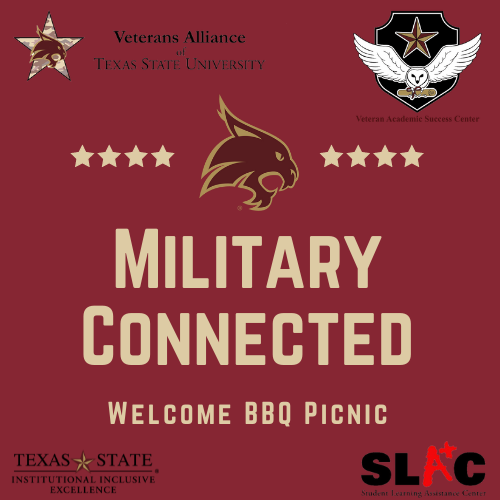 When: 9/11/21
New and transfer Military Connected Students (Veteran and Dependents of Veterans) are invited to attend. This opportunity connects student veterans and their family with resources, services, Veteran Friendly Offices, and fellow military connected students. The MilCon Welcome Reception is a great opportunity to meet the Veteran Alliance of Texas State (VATS), Students with the Veterans Academic Success Center (VASC), connect with prospective mentors, and learn about resources and opportunities at Texas State. Food and refreshments are provided.
CDGS will be present during the browsing session of this event with information and swag!!
HSI Week: Community Day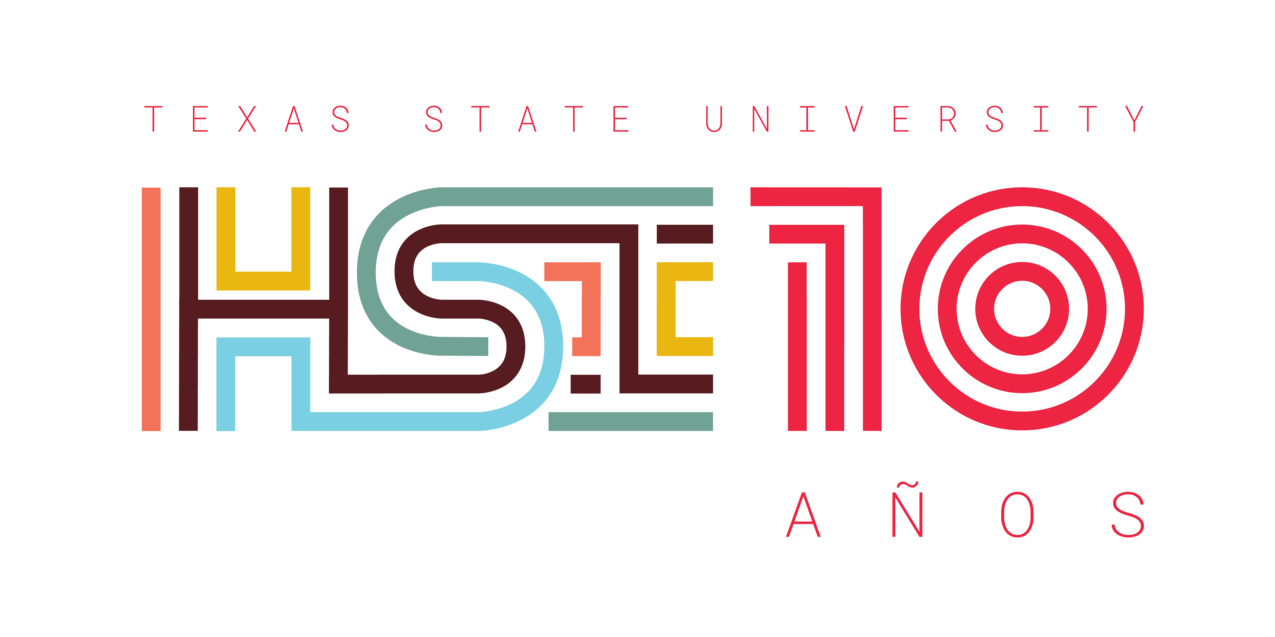 When: 9/13/21
The goal of this event is to engage and connect students, faculty and staff with services and resources on campus to inform how TXST as a HSI is advancing academic achievement, research, and transformative practices. CDGS will be present to celebrate giving out information and promotinal swag.
Lone Star Abortion Rights: A History of the Texas Fight for Reproductive Justice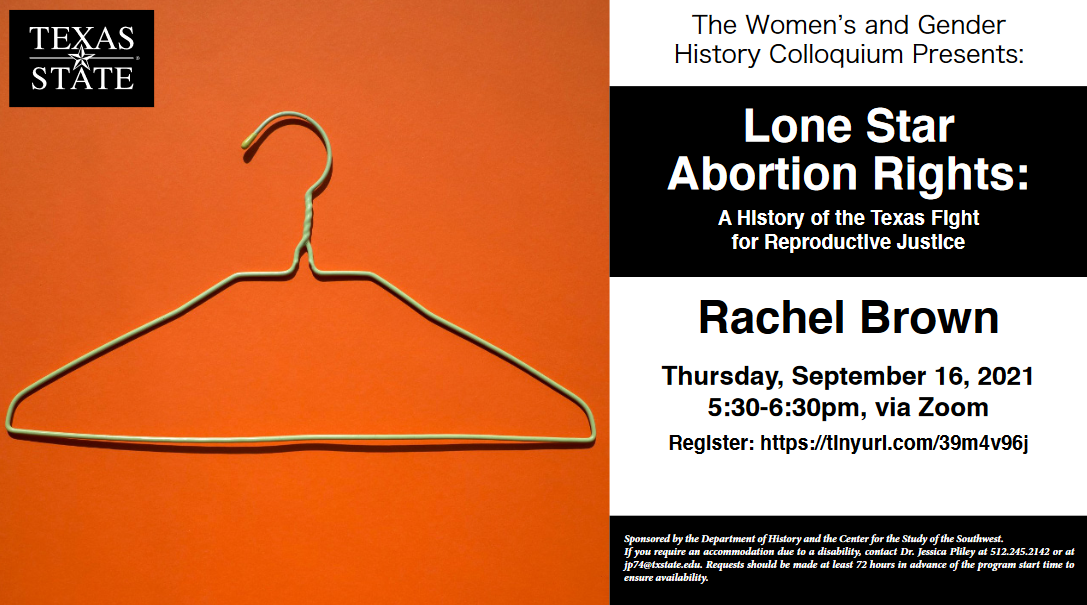 When: 9/16/21
Texas State MA alum, Rachel Brown, will share her research into the origins of the landmark Supreme Court case Roe v. Wade that granted women the right to an abortion.
HSI 10th Anniversary Banquet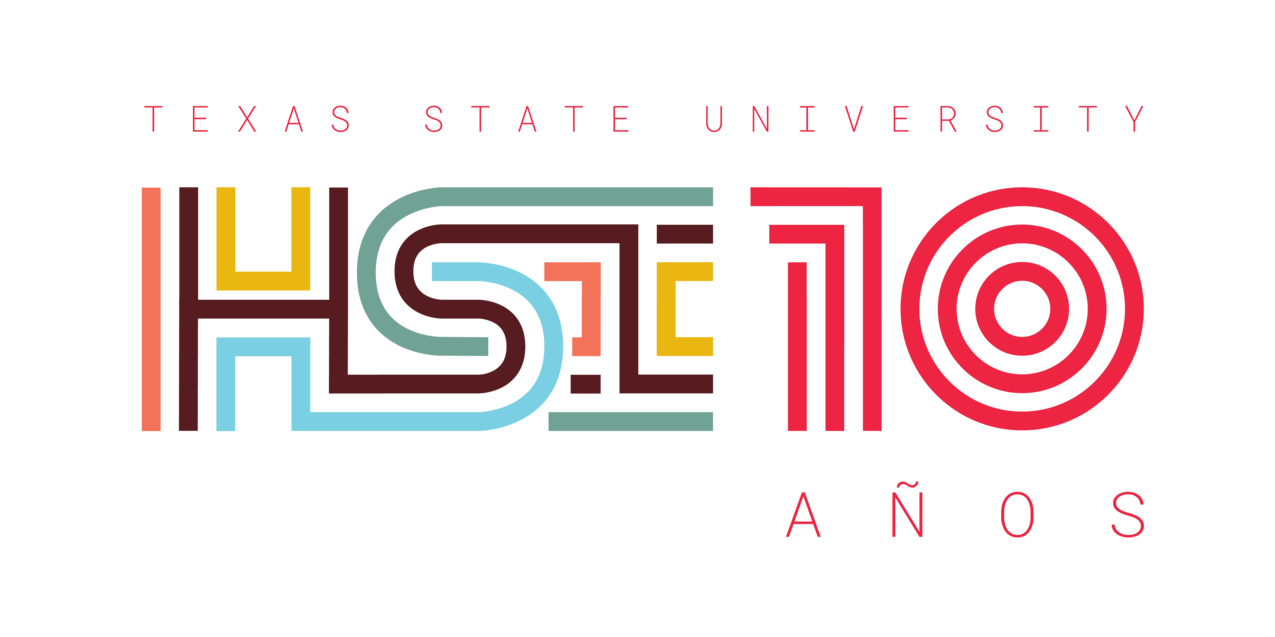 When: 9/16/21
The 10th Anniversary banquet recognizes Texas State University's HSI designation achieved in 2011 and celebrates the accomplishments of the last ten years in supporting and serving Latinx students, faculty, and staff. Further, the banquet establishes a platform recognizing the benefits of our HSI designation to all Texas State students and faculty and opportunities for the NEXT decade to come.
Embodied Knowledge and Accordion Music: History, Place, and Dance in the Texas Mexican Conjunto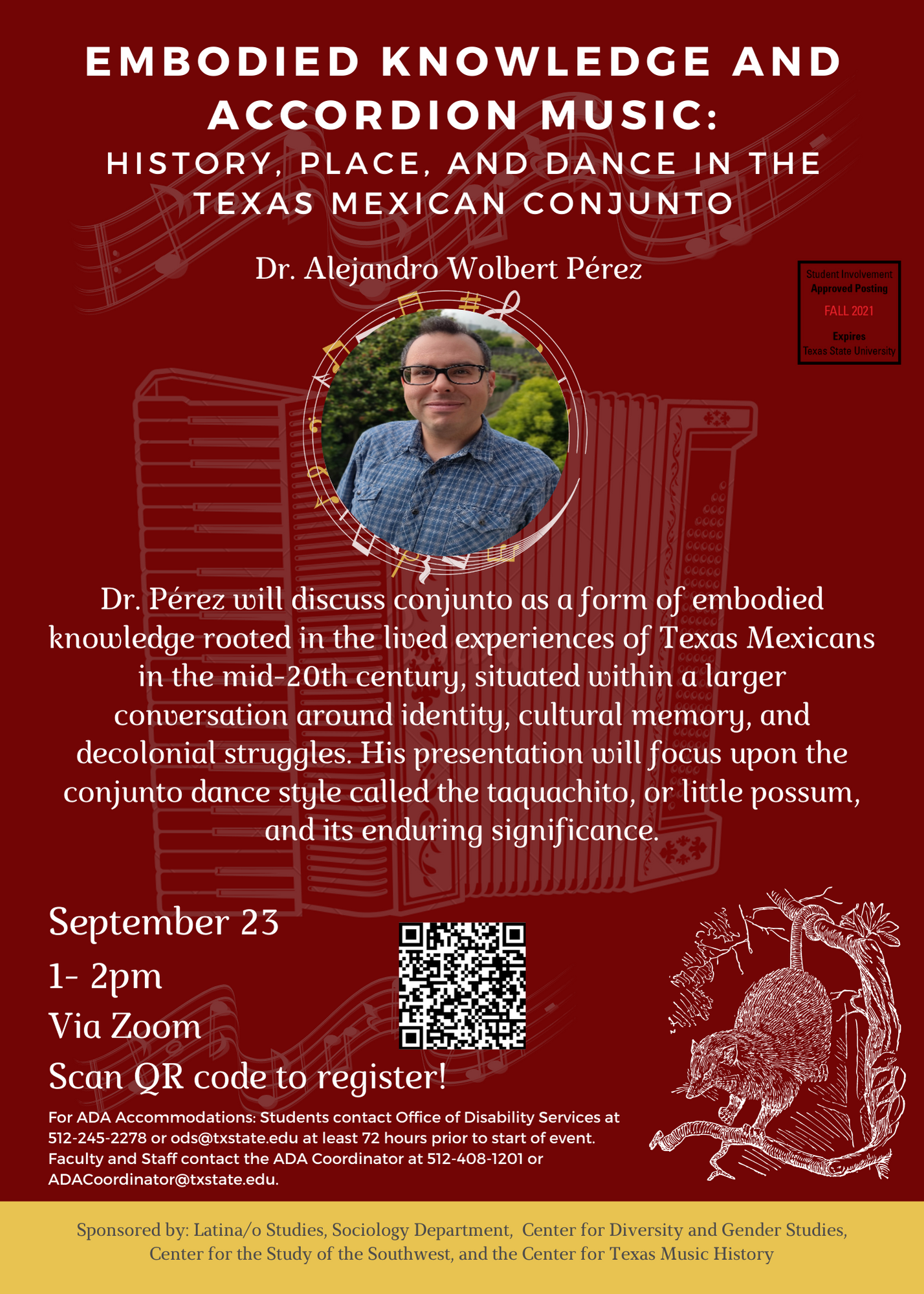 When: 9/23/21
Dr. Alejandro Wolbert Pérez will discuss conjunto as a form of embodied knowledge rooted in the lived experiences of Texas Mexicans in the mid-20th century, situated within a larger conversation around identity, cultural memory, and decolonial struggles. His presentation will focus upon the conjunto dance style called the taquachito, or little possum, and its enduring significance.
Nepantla Familias: An Anthology of Mexican American Literature on Families in between Worlds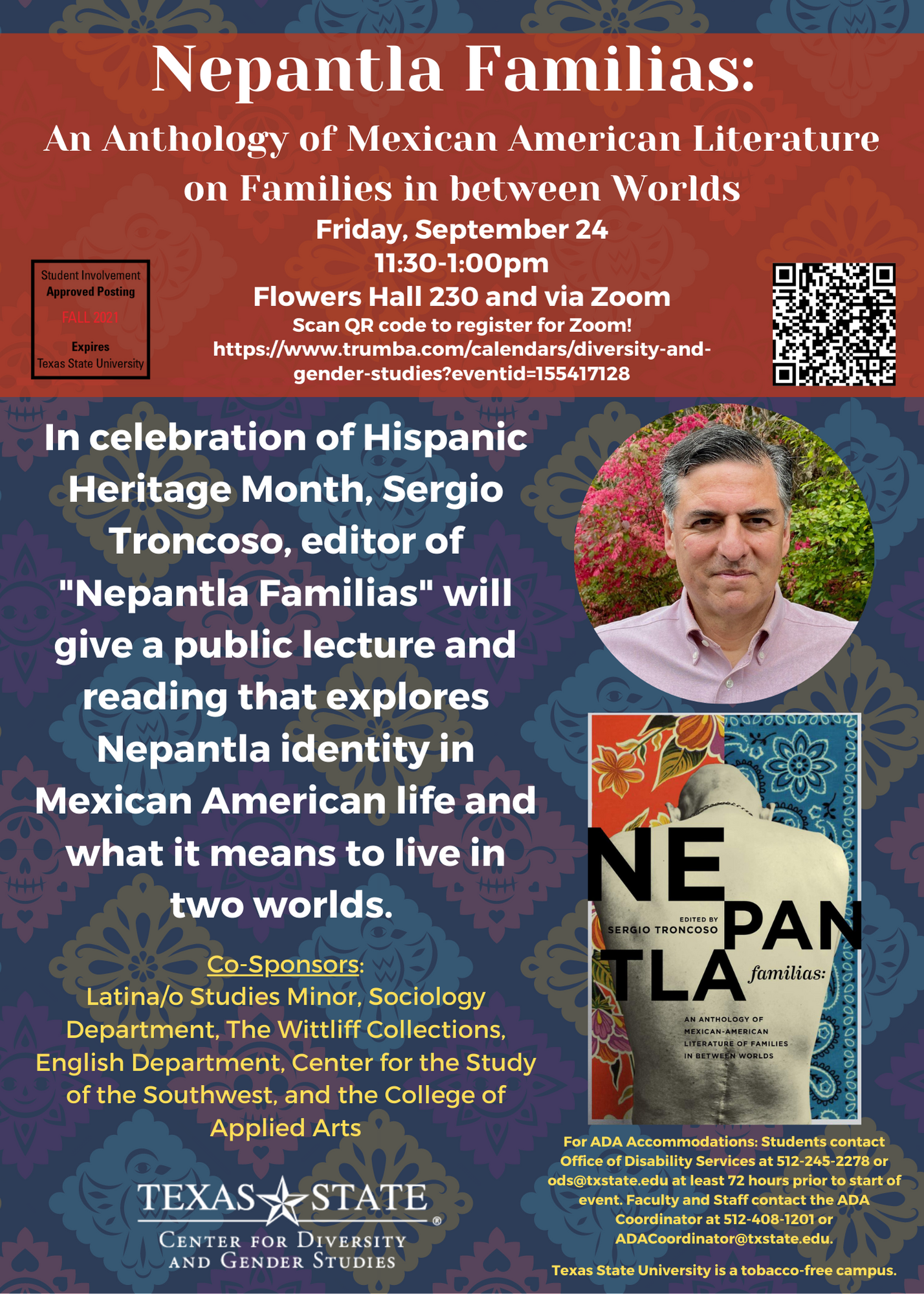 When: 9/24/21
In celebration of Hispanic Heritage Month, Sergio Troncoso, editor of "Nepantla Familias" will give a public lecture and reading that explores Nepantla identity in Mexican American life and what it means to live in two worlds.

This will be a hybrid event. You may attend in person or virtually over Zoom.
First Gen Latinas in STEMprenuers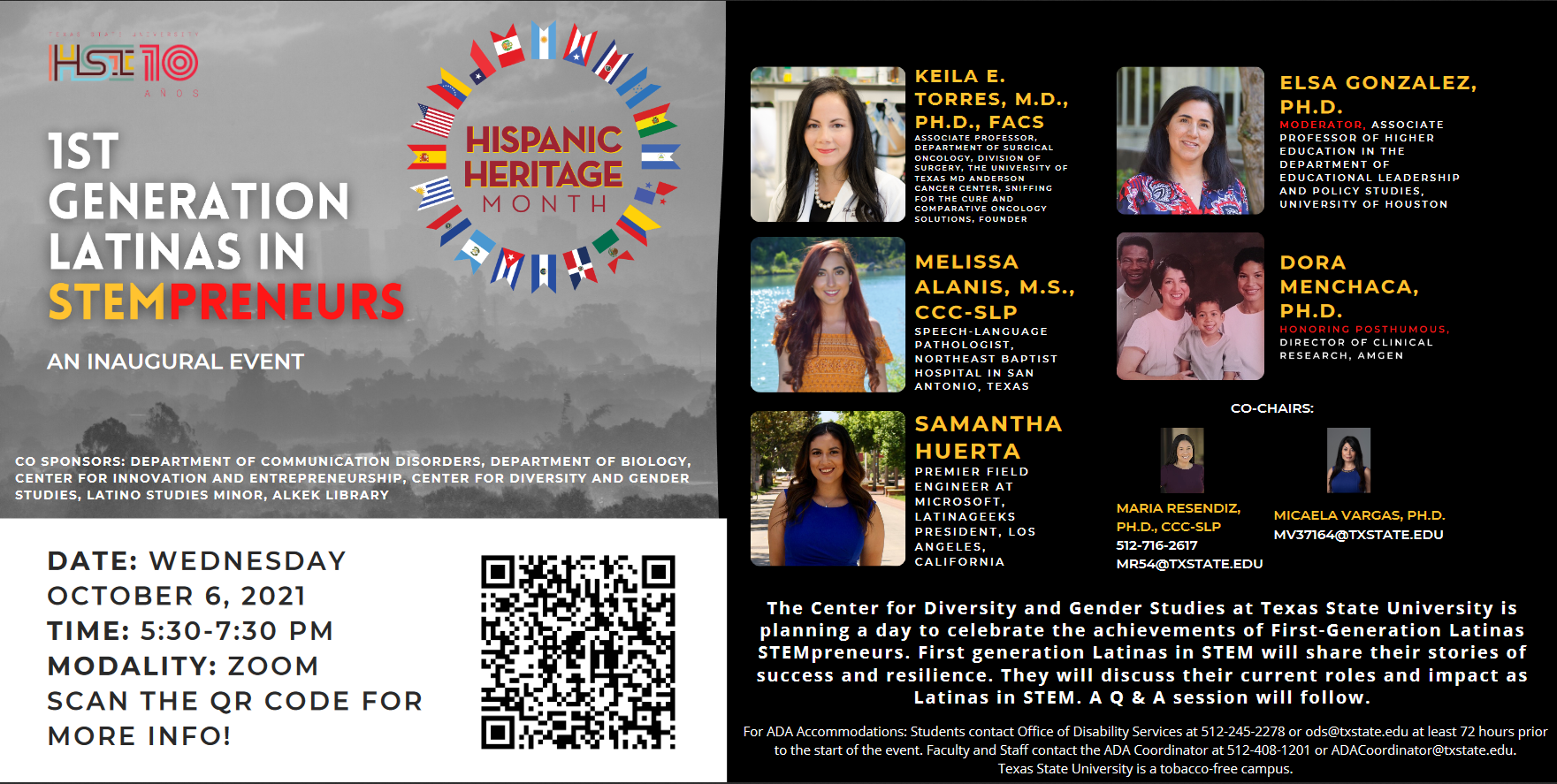 When: 10/6/21
In celebration of Hispanic Heritage Month, the Center for Diversity and Gender Studies at Texas State University is planning a day to celebrate the achievements of First-Generation Latinas in STEMpreneurs. Our aim is to bring awareness to the underrepresentation/disparities in the Science Technology Engineering and Mathematics (STEM) workforce, where Hispanics represent 8% of STEM employment and lower for Latinas. Our goal is to highlight Latina STEM professionals who will share their personal and career backgrounds, academic, and STEMpreneur paths. We aim to inspire important discussions about their journey with college and high school students who are interested in STEM careers and entrepreneurship.