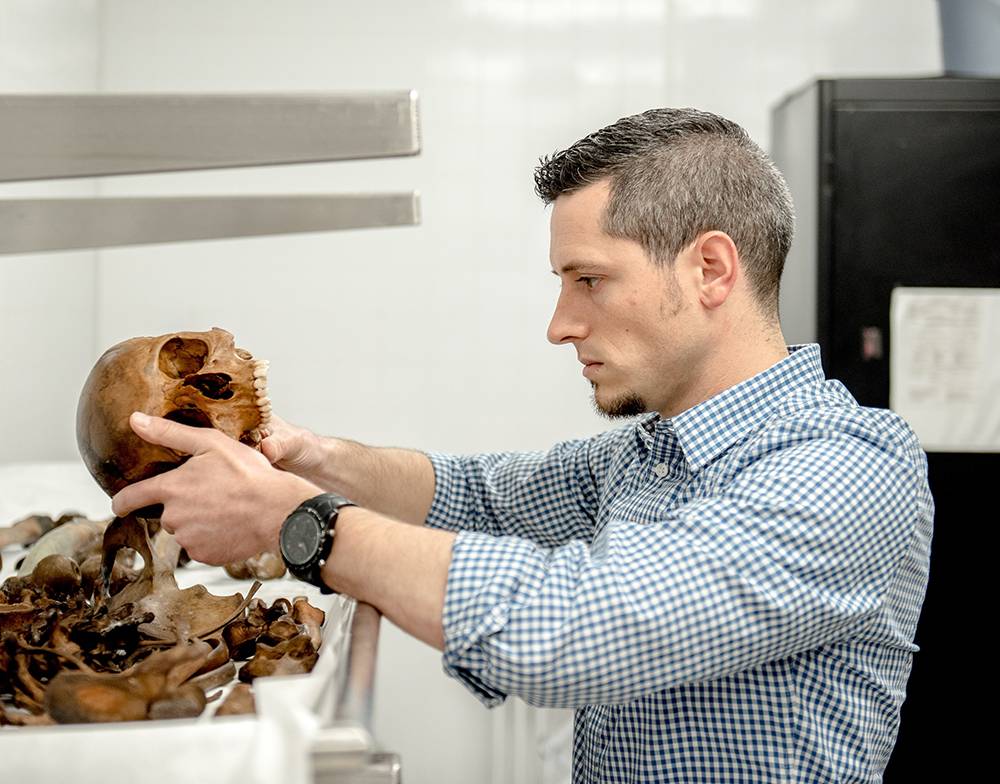 Associate Director: Forensic Anthropology Center
Office: GEB
Email: tim.gocha@txstate.edu
Phone: 512.245.1900
Primary Focus:
Biological Anthropology
I earned my B.A. from The Ohio State University, hopped across the pond to get my M.Sc. from the University of Bradford in England, and then returned to Ohio State where I earned my PhD in 2014. I am a biological and forensic anthropologist with specific research interests in skeletal biology, skeletal and dental histology, and methods of human identification. I have participated in forensic casework across the United States, as well as internationally, including response to several mass fatality events. As the Associate Director of the Forensic Anthropology Center at Texas State (FACTS) I manage all aspects of our willed body donation program including the outdoor decomposition facility and use of the donated skeletal collection.
In press. A.R. Klales, H.M. Garvin, T.P. Gocha, K.M. Lesciotto, M.Walls. Examining reliability and validity of popular morphological sex estimation methods. Submitted to Forensic Anthropology, accepted August 2020.
M.K. Spradley, T.P. Gocha. 2020. "Migrant Deaths Along the Texas/Mexico Border: A Collaborative Approach to Forensic Identification of Human Remains." In Humanitarian Forensic Science: Interacting with dead and the living. Eds. R.C. Parra, S.C. Zapico, and D.H. Ubelaker. New York, NY, USA: Wiley-Blackwell. Pp. 537-548.
T.P. Gocha, A.G. Robling, S.D. Stout. 2020. "Histomorphometry of Human Cortical Bone: Applications to Age Estimation." In Biological Anthropology of the Human Skeleton, 3rd edn. Eds. M.A. Katzenberg and A.L. Grauer. New York: John Wiley & Sons, Pp. 145-188.
T.P. Gocha, M.K. Spradley, R.M. Strand. 2018. "Bodies in Limbo: Issues in Identification and Repatriation of Migrant Remains in South Texas." In Sociopolitics of Migrant Death and Repatriation: Perspectives from Forensic Science. Eds. K.E. Latham and A.J. O'Daniel. Cham, Switzerland: Springer International Publishing AG. Pp. 143-156.
J.T. Hefner, B.F. Spatola, N.V. Passalacqua, T.P. Gocha. 2016 – Beyond Taphonomy: Exploring Craniometric Variation Among Anatomical Material. Journal of Forensic Sciences 61: 1440- 1449.
S.D. Stout, T.P. Gocha, M.E. Cole, A.M. Agnew. 2016. – Bone Histology. In Oxford Bibliographies in Anthropology. Ed. John L. Jackson, Jr. New York: Oxford University Press. Published online 28 September 2016; doi: 10.1093/obo/9780199766567-0148.
T.P. Gocha and A.M. Agnew. 2016. – Spatial Variation in Osteon Population Density at the Human Femoral Midshaft: Histomorphometric Adaptations to Habitual Load Environment. Journal of Anatomy 228: 733-745.
T.P. Gocha, M.E.Ingvoldstad, A. Kolatorowicz, M-T.J.Cosgriff-Hernandez, P.W. Sciulli. 2015. Testing the Applicability of Six Macroscopic Skeletal Aging Techniques on a Modern Southeast Asian Sample. Forensic Science International 249: 318.e1-318.e7.
T.P. Gocha, G. Vercellotti, L.E. McCormick, T.L. Van Deest. 2013. Formulae for estimating skeletal height in modern Southeast Asians. Journal of Forensic Sciences 58(5): 1279-1283.
T.P. Gocha and H.Schutkowski. 2013. Tooth Cementum Annulation for Estimation of Age at Death in Thermally Altered Remains. Journal of Forensic Sciences 58(S1): S151-155.
D.C. Rose, A.M. Agnew, T.P. Gocha, S.D. Stout, and J.S. Field. 2012. The use of Geographical Information Systems Software for the Spatial Analysis of Bone Microstructure. American Journal of Physical Anthropology 148: 648-654.